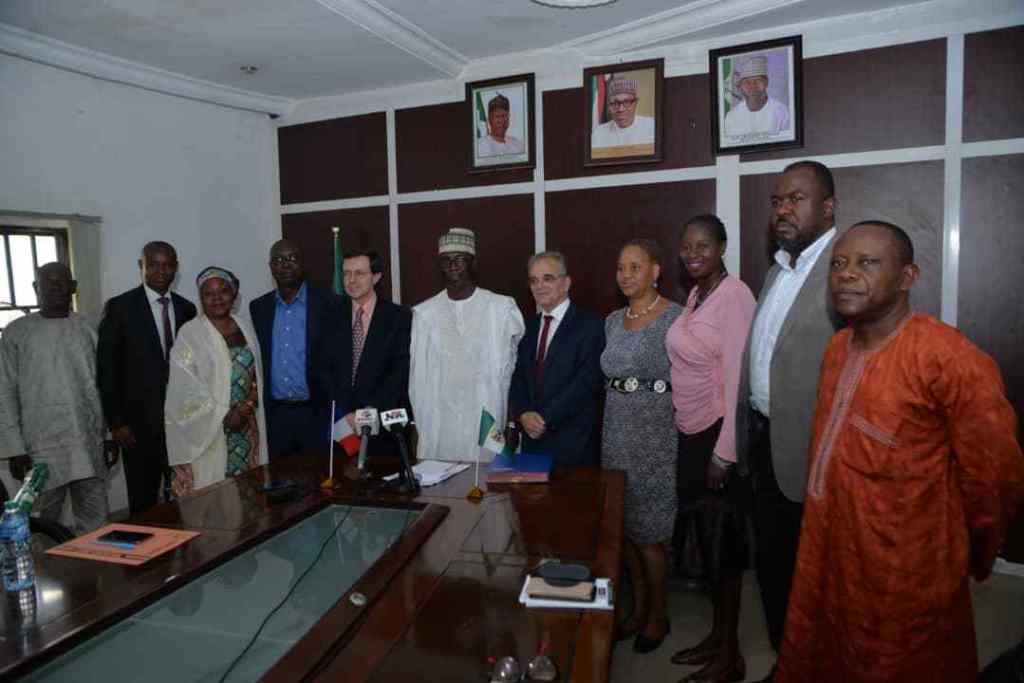 The NFVCB played host to French Ambassador, Monsieur Jerome Pasquier and the Director of the Institue Francaise de Nigerie, Monsieur Arnand Durnon on the Tuesday, 23rd of April,2019.
In his opening remark, the Executive Director of the NFVCB, Alhaji Adedayo Thomas highlighted the primary functions of the Agency and its achievements so far within the past 2 years. He further enumerated on the frame work of distribution of films and video works designed by the board to bridge the vacuum between the Agency and the distributors.
He said and I quote "The board has designed a framework of distribution of films and video works that is very reliable and sustainable. Within it are licensed distributors who are authorized by the board to distribute films and video works in Nigeria. These distributors are categorized into five groups; National, Regional, State, Local Govt Areas and Communities. In highlighting the achievements, he said that Nigeria has achieved tremendously 200, from 39 screens in just two years. Although much has been done, much more could still be done to encourage distributors to release Nollywood movies in France, and this serves as an incentive for the collaborative venture.
The Executive Director also informed the Ambassador that he will be leading a 23 man Nigerian delegates to the Cannes film festival taking place in May, and in Frances.
In his closing remarks, the Executive Director thanked the President of the Federal Republic of Nigeria for creating an enabling environment for the creative industry to grow faster than expected with the last two years. He also thanked the VP, Yemi Osibanjo, for his support so far. Lastly, the Executive Director urged the French Government to aid Nigeria in her fight against piracy and as well as tackling the issue of poor ICT and technology to boost online distribution and exhibition of movies.
The Ambassador in his own remark, pledged to improve on the distribution of Nigerian movies in France, and vice versa. He also said that in other to bridge the Language barrier as well as promote inter-cultural exchange between Nigeria and France, The French government has established 10 branches of Alliance Francaise withing Nigeria. Further more, he said in improving the ties between both film industries, France will be sending high profile delegates to the Nigeria in July to partake in the events lined up. This historic event came to an end with both parties appending their signatures to the documents and exchanging pleasantries and handshake.
SEE PHOTOS