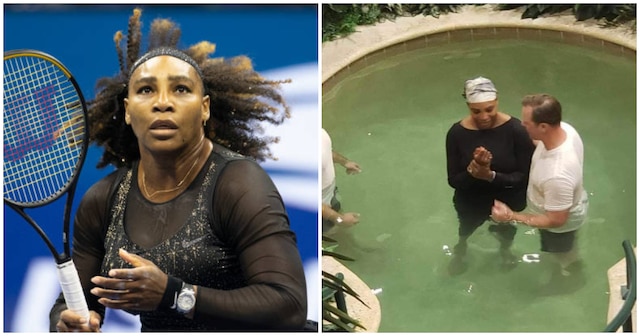 Serena Williams has been baptized as a Jehovah's Witness just four months after retiring from tennis.
In September, the player many consider the greatest female competitor of all time bowed out of the sport at the US Open, following an emotional defeat to Ajla Tomljanovic in the third round.
She has since hinted at a future return, but the star has thus far resisted the temptation to play competitively again.
And she's reportedly used her time away to study more about her religion, having previously expressed desire to embrace her Jehovah's Witness faith.
And now a Tweet by @RealMoshudKarim has revealed a video of the tennis icon getting baptized.
"Serena Williams, the famous Tennis player got baptized today at the Jehovah's Witness Assembly in West Palm Beach Florida," she wrote. "According to the Governing Body of the religious sect in Watchtower 2019, study 40, paragraph 14, only baptised Witnesses will be saved."

During an interview with Vogue in 2017, Williams spoke about her faith and also the support of her husband: "Being a Jehovah's Witness is important to me, but I've never really practiced it and have been wanting to get into it," she said.
"Alexis didn't grow up going to any church, but he's really receptive and even takes the lead. He puts my needs first."