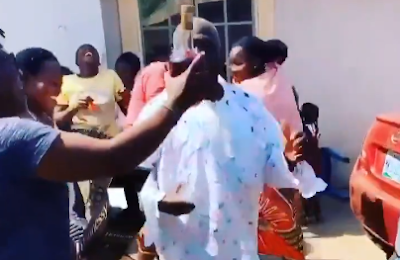 Aww this brings back memories. These dads eh, wow lol. I remember when I bought my dad a car in 2015 (not my real dad, but he stood in place for us MORALLY&FATHERLY), despite being in his 70's and was still a millionaire he couldn't hide his joy LOL. He kept singing and dancing without a beat, lol. I laughed and laughed. That was my grace tho, he died the following year (rolls eyes). RIP DADDY!
So Nigerian footballer, Ordega Francisca surprised her dad with a car on Christmas day and papa danced like there won't be a tomorrow. Sharing the news on twitter, Ordega wrote;
"So I gift my Dad a car as a Christmas gift and he is super happy…I'm so emotional😭😭😭 right now.. see the way he is Dancing OMG…he is so cute 🤗 I will sure surprise my Mum with a House on her birthday in February hopefully🙏🏼🙏🏼🙏🏼 God bless them for me." AMEN. Watch the video of the surprise below… Love it!