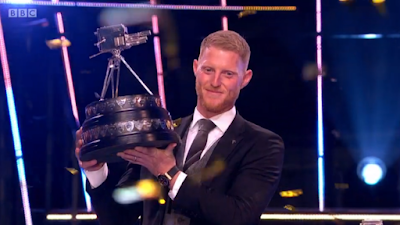 Ben Stokes was named the BBC Sports Personality of the Year, and England's cricket World Cup winners the team of the year, as the annual awards ceremony in Aberdeen celebrated a strong year of sporting achievement.
The England batsman became the first cricketer to win the prize since Andrew Flintoff in 2005 after a summer of batting heroics during both the World Cup and the Ashes.
The 28-year-old finished ahead of the six-time Formula One champion Lewis Hamilton, who came runner-up for a second consecutive year and fourth in total, and the world champion sprinter Dina Asher-Smith, who was third. The other shortlisted athletes were the footballer Raheem Sterling, the Wales rugby captain, Alun Wyn Jones, and the world champion heptathlete, Katarina Johnson-Thompson.

"It's an individual award but it's a team sport," said Stokes on receiving the award. "The best thing is you get to share big moments with teammates and back-room staff. They make moments like this summer possible. Two years ago was a tough time for me in my life and I had so many people help me through that. I wouldn't be up here without you, so thanks."