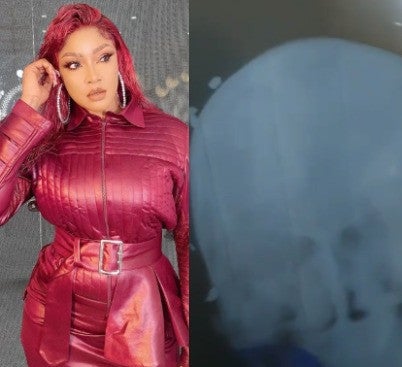 Gospel singer & Actor "Angela Okorie" in the late hours of December 12, 2019 miraculously escaped the cold hands of death when she survived an assassination/robbery attack at Alafia , Orile , Ajegunle, Lagos State, Nigeria around 8:00PM (GMT +1) on her way back home from a couple of events.
That fateful day, she had earlier had a successful performance and headlined alongside Davido at the Infinix Fans party where she performed her latest trending single titled "E Pain Dem" which received massive response from the fans on the first day of its release held at D'Podium , Ikeja , Lagos , Nigeria.
Thereafter, she went ahead to receive an award of excellence for her positive contributions to the Widows held at Golden Tulip , Festac town, Lagos, Nigeria.
On her way home, she was attacked in the usual heavy traffic caused majorly by the series of trailers packed on the road at Alafia, Orile, Apapa express way around 8:00PM (GMT +1) by a group of about 6-8 assassins, who also came with the aim to rob and dispose her and the team off their valuables. The bandits shot repeatedly at her Jeep for 30minutes with no help throughout the operation.
She was hit by 10Pellets on her head and 2pellet in her eyes, while other team members sustained injuries, vehicle damaged and some valuables carted away.
She's presently responding to treatment in the hospital; and we are calling her fans and well-wishers to pray for her quick recovery.
The visuals to her latest single "E Pain Dem" has already been shot, and it's set to be released soon.