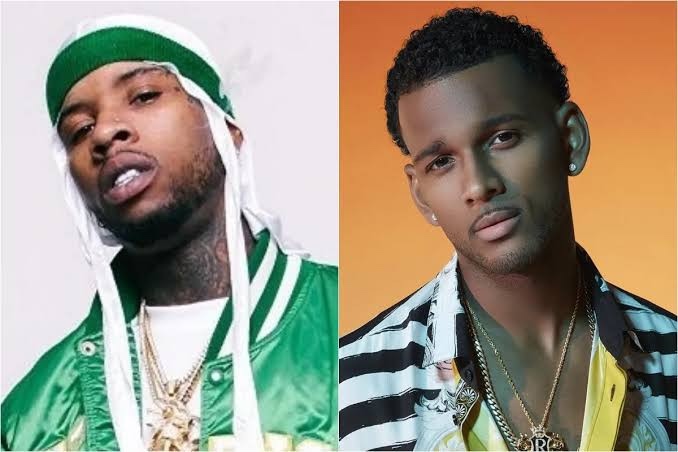 Rapper, Tory Lanez seems to still be making headlines for the wrong reasons, as there are reports of new accusations of assault .
"Love & Hip Hop: Miami" star Prince Michael Harty (pictured top right) claims the rapper reignited their feud when they ran into each other at a Miami nightclub earlier this month.
According to the police report obtained by TMZ, Prince was at his table at Vendôme Miami around 4 a.m. on May 3 when he was approached and struck on the left side of his face.
Prince told cops he turned around and made eye contact with Tory, who ran out of the club and took off in a Mercedes-Benz Sprinter van.
The police report names Tory as a suspect for an alleged battery for which Prince sought medical treatment. The responding officer reported that Prince was visibly swollen on his left cheek.
A rep for Prince says he was at the club with NFL star Malcolm Butler, when he noticed some guys staring at them. When Butler left, Tory allegedly approached Prince with his entourage and threw the punch, leaving Prince with a massive headache and a swollen mouth.
Representatives of Tory Lanez denies the allegation, saying he was nowhere near Prince at the time and alleges that Prince is "obsessed" with Tory. The rep says there are no witnesses or footage to back up Prince's claim. The beef between the pair dates back to 2019 when Prince sued Tory for allegedly hitting him at LIV Miami. He is now considering filing a new lawsuit for this latest claim.
Tory is still facing felony assault charges in connection with the July 2020 shooting involving Megan Thee Stallion. He has pleaded not guilty and faces up to 22 years in prison if convicted.