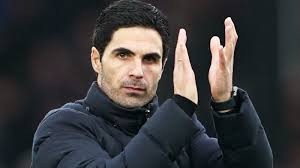 Arsenal manager, Mikel Arteta has admitted that his position is "under scrutiny" after failing to guide the Gunners past Villarreal in the semi finals of the Europa League on Thursday, May 6. Arsenal's former coach, Unai Emery, returned to haunt his former club beating them 2-1 in Spain and playing 0-0 in London. Arsenal knew one goal would be enough in the second leg but could only muster a goalless draw on home soil and while they sit ninth in the Premier League meaning the club could miss out on European football for the first time in 25 years. When asked by reporters if he remains the right man for the job:
"I wouldn't be sitting here if I couldn't. You will see it. It's not about talking, it's about showing it on the pitch.
"I feel the pressure all the time because I want to do as good as I can for the team, for every support that I have here and for the fans. Today is a big disappointment because we tried everything to be in that final.
"I think everybody's job is under scrutiny."
Arteta has delivered FA Cup and Community Shield triumphs while at the Gunners helm.