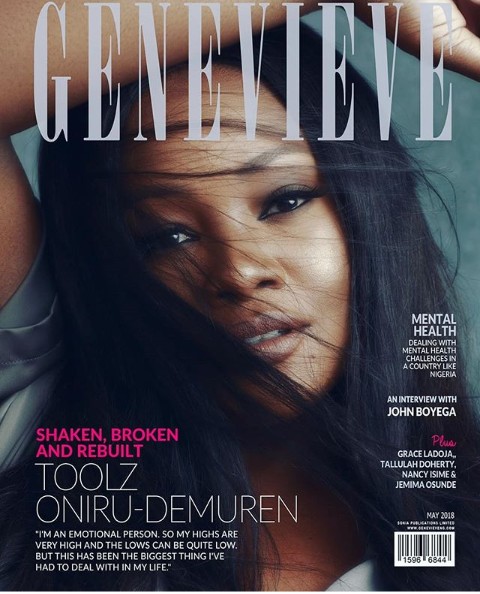 Media Personality, Toolz Oniru-Demuren is the celebrity cover of Genevieve magazine's May issue.
The OAP shares her incredible journey to healing from her miscarriage with support from her Hubby Tunde.
Read: This Is Why Toolz's Husband, Tunde Demuren Does Not Want Her To Grant Interviews
Excerpts From The Interview:
There is usually a very fairy-tale like view of what one's marriage will be like, especially in the first few years. Has it been everything you hoped it would be?
I'm a die-hard romantic, so I did think marriage was going to be like a Disney movie….no arguments, birds singing every morning. (Laughs) To be honest It's not quite like that, but I'm very happy. I think what I love most about being married is being part of this team. It's amazing knowing that whatever I'm going through good/bad – someone will always be there with me to hold my hand or cheer me on.
On the outside, and with thanks to curating one's life on social media, a lot of the difficult points of one's life tends to stay out of the picture. One of such difficulties was your miscarriage, which you haven't spoken publicly about. What was going through your head at that time?
I've never spoken about it because it was very painful, and it's still very difficult for me to talk about it.