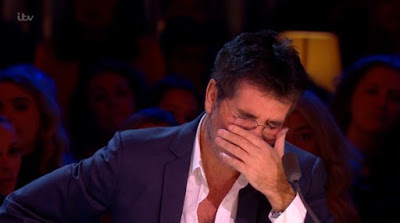 Simon Cowell broke down in tears during tonight's Celebrity X Factor final, worrying viewers in the process.
The business mogul, 60, was left stunned by the charity single and burst into tears when host Dermot O'Leary turned to him.
It came when he was asked for his response on the song – he was left covering his eyes and unable to speak to Dermot.
The host mentioned the charity was "close to his heart".

Turning to the judge, he said: "Simon I know both those charities are very close to your heart. What do you want to say?"
Simon paused for a moment and whispered: "Oh God," before shielding his face from the camera.
Co-star Nicole Scherzinger was quick to comfort Simon as Louis Walsh was left stunned.
His girlfriend Lauren Silverman ran onto the stage and wrapped her arms around him, before Dermot moved on and turned the camera away from clearly upset Simon.
"OK, I don't need to say anything else Simon, thank you," Dermot announced.
One concerned fan wrote: "When Simon cried oh gosh my heart".
A second added: "I think even the hardest heart cried with Simon there."
And a third said: "That charity song for the children's hospice already had me crying but when Simon started cried ugh".