Fashion plays an increasingly important role in an individual's life because, it is considered the means of self expression. Expression of one's character, confidence, self knowledge, self acceptance, style, class, religion, tradition, choice, mood, feeling and one's spirit.
Fashion has over time transcended from just a form of expression to being a means of celebrating one's uniqueness and way of life. Therefore fashion has been a form of entertainment; and it isn't just about clothing, but a total way of life.
A fashion show instantaneously brings to mind a flash of colours and a flash of glamor. Through the ages, different fashion styles have come and gone and many of them resurrect in other generations to be more refined and more appreciated.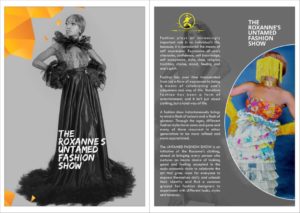 The UNTAMED FASHION SHOW is an initiative of the Roxanne's clothing aimed at bringing every person who nurtures an innate desire of looking good and feeling accepted in the socio-economic circle to celebrate the art that gives room for everyone to express themselves daily and unleash their identity and find a common ground for fashion designers to experiment with different looks, styles and textures.
Be a part of history as fashion is given another definition come June 30 2019.
Venue: De Mix Event Centre, Ughelli, Delta State.
For more information and details kindly contact this numbers: +2348078610711, +2348132226314 or email the organizer Roxannebliss20@gmail.com