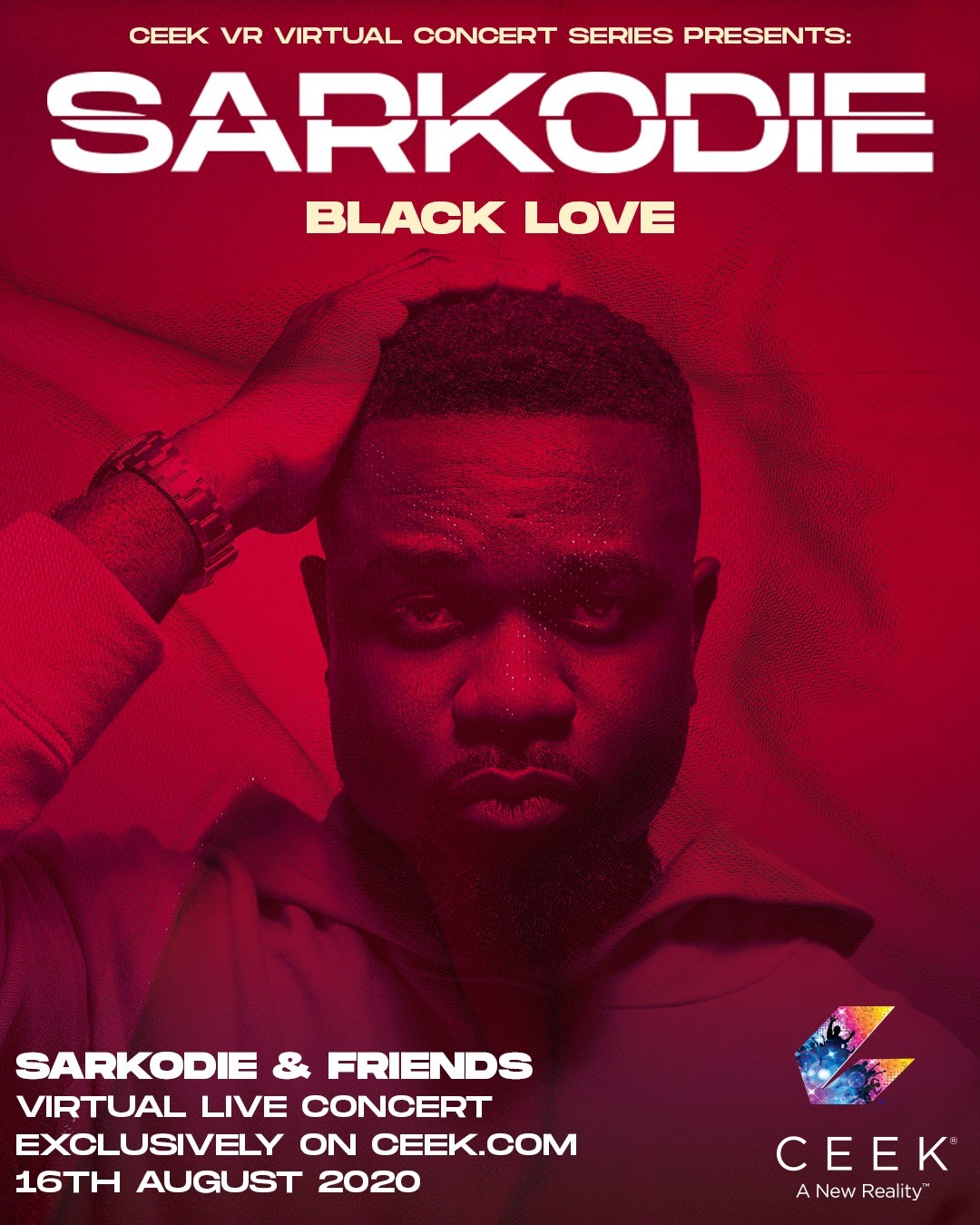 Ghanaian rap icon, best known as Sarkodie will be putting on one of the most exciting and innovative outdoor virtual concerts on Sunday 16th August full of hits exclusively streamed on Ceek.com.
The "Black Love" virtual concert will hear Africa's finest MC feature a heavy-duty line up performing tracks taken from his recently released album of the same name at an iconic location in Accra for the very first concert to be performed at this location.
Along with a few surprise guests, Sarkodie will be bringing through some of Ghana's finest musicians, who also featured on the album such as King Promise, Efya and KiDi to Joey B and Legend Amakye Dede. With the presence of African music royalty, this definitely won't be a show to be missed and will also be available on DSP's after the concert.
Sarkodie's latest single "CEO Flow" ft. E-40 took over a billboard in the one of the most iconic places in the world, New York's Time's Square, a monumental moment for him and Ghanaian music. He's also in the Top Requested Artists on MTV for a 5th week in a row, showing his fierce presence in the today's fast-paced music industry
Make sure you tune in on Sunday 16th August to watch the concert of a lifetime with Africa's biggest and best artists.
About Sarkodie:
Michael Owusu Addo is the Ghanaian rap icon, best known as Sarkodie. With a career spanning 10 years at the top of his game and a decade since his landmark debut album, 2009's joyous Mayke – one of African music's biggest and best-loved hip-hop albums; Sarkodie embarked on an exciting new chapter in his career with project Black Love
"I always want to open doors to other territories, to other audiences, new people who might relate to my music. That wish is always there." Across the last decade, his wish has come true, through a combination of hard work, hustle, heartfelt storytelling and captivating flow – the kind that transcends language barriers. "I rap in my native language. There came a point where I started to think of ways the world could understand me," says Sarkodie. "The way to do that was to work and work on my delivery. You don't need to understand what I'm saying to feel it." As well as having tens of millions of album sales and over 80 awards to his name in his native Ghana, Sarkodie's sound – a fizzing blend of hiplife, hip-hop and Afrobeats – has led to sold-out shows at London's O2 Kentish Town Forum and performances with an impressive array of international names, including T-Pain, Ludacris, Busta Rhymes and R&B supernova Miguel, who he duetted with at the 2014 MTV Africa Awards.
Sarkodies' debut album Mayke was a smash, as was its follow-up: 2012's BET Award-winning Rapperholic. The record doubled down on Sarkodie's emphasis on truthful, soul-bearing and relatable raps, exploring pain, romance and real life struggles, a philosophy he still carries with him today. "Emotion is the most important thing to me. I don't want just songs – I want emotions. It can sound like a club banger, but you need to feel the emotion in it," he says. As Sarkodie's acclaim continued to grow, he found it important to give back: his charity, The Sarkodie Foundation, has transformed thousands of lives of underprivileged children in his community since its inception in 2013. "It brings me fulfilment to see joy in others," Sarkodie explains. As his profile has increased, with the release of celebrated albums Sarkology (2014) and Highest (2017), so has his commitment to helping others.
"Some people sell out who they are to try and be accepted in different places. I know who I am and what my sound is, and that's something I try not to lose because my authenticity is my power," Sarkodie says of his approach to making music. It's important to him to keep things organic, to keep rewarding his passionate fanbase with music that's relatable and real. in December 2019 he released his most recent album Black Love to critical acclaim. He also recently featured in a documentary with Major Lazer and performed with them, as well as Rick Ross. Recent features include E-40 and Idris Elba.
To date, he remains Africa's most decorated rapper winning over 80 awards and amassing over 180 million views across YouTube.
To find out more about Sarkodie
Instagram | Twitter | Spotify | Youtube
To find out more about Ceek
For press enquires contact
For management enquires and Ceek enquires contac