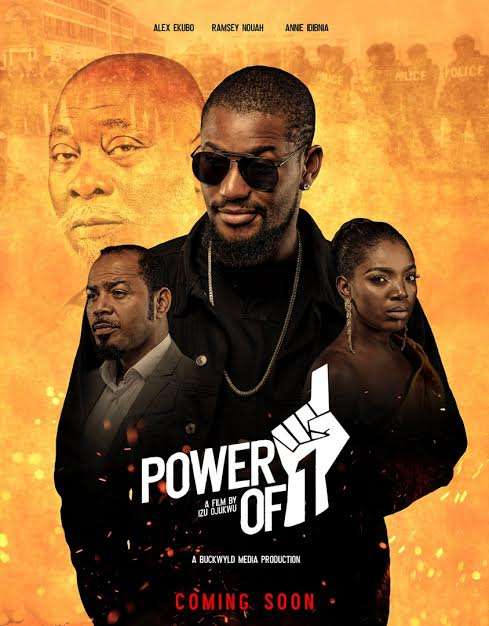 2face Idibia's support of  a nationwide protest against the policies of the federal government in January 2017 is part of the story that formed Izu Ojukwu's recent movie project, 'Power of 1'.
Efe Omorogbe, the executive producer of the movie, 'Power of 1' revealed this in an exclusive chat .
Omorogbe admitted that the advocacy movie is partly fiction and events of a true life story of the Nigerian born singer, Innocent Idibia.
"Yes, exactly, the movie 'Power of 1' has in it some of the things 2baba went through," Omorogbe said
Continuing, Omorogbe said, "The movie is a mix of fiction and real life events and when you read the synopsis, you don't see it all until you get to watch the movie. The trailer is a proverbial tip of the iceberg because the film itself is on a whole different level."
Omorogbe breaks down the story behind 'Power of 1'
Speaking exclusively on the story behind the movie, Power of 1, Omorogbe said it all began with 2baba foundation in 2011.
"Let me break this down, first time anywhere, I will say this first . I work with the 2Baba foundation and we started in 2011 to get into the political space and by 2014, we had some organisations joined us and we launched 'Vote not Fight' and the reason was simple," he began
Continuing, Omorogbe said, "The were so many predictions about the 2015 to be violent and we sat and said, yes there might be these predictions but what can we do to stop or reduce it to the barest minimum and we designed a campaign called 'Vote not Fight, '
"We went from from place to place using 2baba's star power and resources of these other organisations to engage young people and showing them clearly reasons why violence is not an option for 2015 election and by the time it was the election, we had covered over 744 local governments and the election was relatively peaceful. This made it clear that we could get it done. So, we've been working on sensitising the youths making them understand why their votes count and why they need to make it count by a singular decision.
"And in January 24, 2017, 2Baba posted something on Instagram supporting the cries of the masses and it was like matches and petrol and we saw drama unfolding before our very eyes, it was very close to something we might not be able to handle so he pulled the plug to primarily douse the tension and reduce the possibility of violence where people will get hurt…" he said.
'Power of 1' stars Ramsey Nouah, Alex Ekubo, Annie Idibia, Jibola Dabo, Jide Kosoko, Racheal Oniga, Michelle Dede, Padita Agu and many more.
The movie is scheduled to start showing in cinemas across Nigeria from December 7, 2018