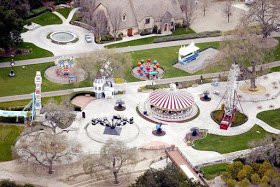 Michael Jackson is earning more in death than he did in life.
On what would have been the singer's 60th birthday, court papers reveal his estate netted $74million in a year.
It means his children Paris, 20, Prince, 21, and Blanket, 16, are living their lives in luxury they were denied in the last three years of his life.
Jackson said they were like "vagabonds" months before he died in 2009 with debts of $500million [£388million].
The 73-page document filed at a Los Angeles court by executors, including close friends John Branca and John McClain, showed publishing rights from hits like Thriller delivered $2,448,584.99.
But his merchandising arm Triumph International brought in the most – $18.8million in the same period.
Spending included $10.8million on a house for the children and $85,297.65 for a top-of-the-range Cadillac Escalade for their security team.
Budding film director Prince was given a $70,000 truck and a Chevron fuel card on which he spent $9,000.
The children enjoyed five holidays, including to Hawaii, for which they got $28,500 in spending money alone.
Jackson's mother Katherine, 88, collected around $1million to cover health bills, allowance and expenses, and $257,379 to run her own home.
When she temporarily handed over their guardianship to Michael's cousin TJ, he got $5,790 every two weeks.
Hayvenhurst, where Michael lived before he bought Neverland, cost $157,000, including $60,000 on rebuilding the main house and installing an alarm.
The court papers state the executors have "disposed of most of the creditors' claims", but some debts still remain.
The accounts are so complex that the figures are only for the year of 2015.
They have emerged as Jackson's estate faces claims he owes $500million in back taxes. The estate is trying to negotiate a deal on his bills for the last decade and "true value" of his estate.
It is understood gross earnings since Michael's death exceed $900million.
Michael Jackson's music videos have been watched one billion times on YouTube so far this year, with 41 million viewers from the UK.