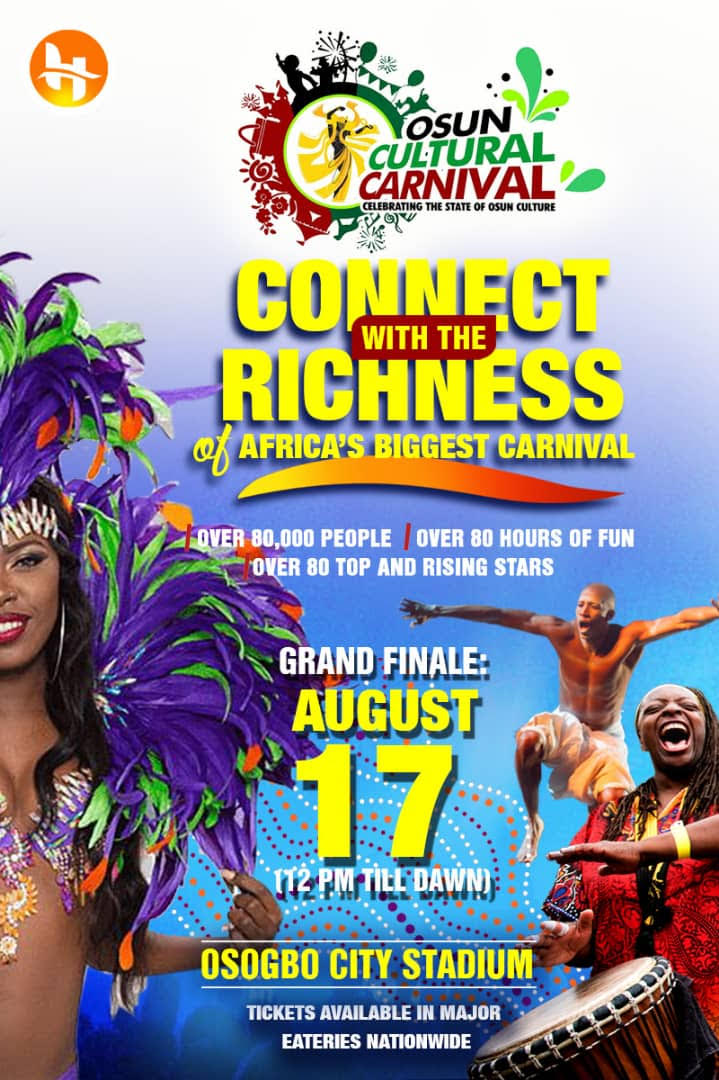 The State of Osun, which can arguably be identified as one of the states with the richest culture plans to host the world this August.
The Osun Cultural Carnival was birthed out of the aim of making the state of Osun the heartbeat of African culture. The cultural carnival will be one of the biggest cultural event in Africa, where both young and old, white or black can all gather together to learn, get entertained and celebrate the richness of the Osun Heritage and culture with the theme – CONNECT WITH THE RICHNESS.
According to the organiser, Our Heritage Branding & Advertising LTD 'they aim to create an event that would cause a global attraction with over 80, 000 audience attending and over 10 cultural troops from across Africa and the world with performances from the biggest artistes around the world.'
Furthermore, Osun Cultural Carnival will be the biggest and most celebrated cultural carnival in Africa and equally promote the Osun heritage and culture to the world as the biggest tourism and cultural state in Africa.
In addition, it will feature exciting and interesting segments, like a showcase of the richness of Osun culture, cultural challenge, giveaways, competition, awarding best students in each of the universities in Osun state, Living Legend Award presentation and performances from Africa's biggest artistes.
Date – August 17th, 2019 (Saturday). Venue – Osogbo City Stadium. Time – 12noon till dawn.
For more details, please visit: https://www.osunculturalcarnival.com.ng
The Osun Cultural Carnival is powered by Our Heritage Branding & Advertising LTD.
Facebook & Instagram – @osunculturalcarnival
Media Contact: Godwin JP {+2349026868917}(+2348182352002)