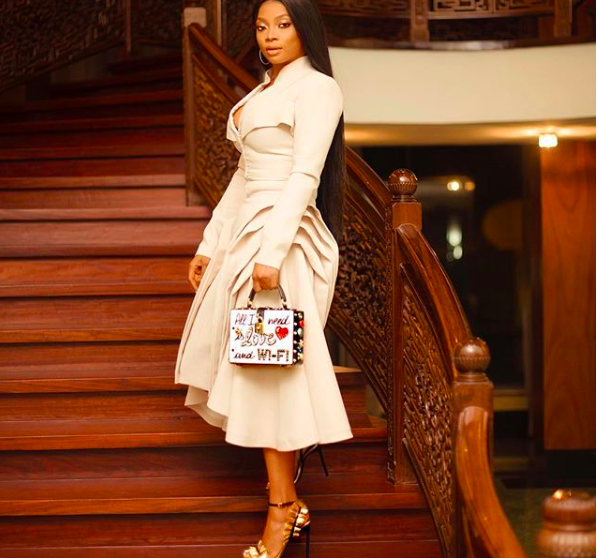 Toke Makinwa says a lot of women have been able to find the courage to speak since she wrote her book, two years ago.
The media personality made this known on her Instagram page on Tuesday, November 27, 2018, while celebrating the second year since the launch of her best selling book 'On Becoming.'
"It's been 2 years since I launched my first book "On Becoming by Toke Makinwa", 2 years since I put my pain to paper and shared my journey with the world. It's been such an incredible journey, it has sparked off so many conversations and ultimately there has been a lot of talk. Why did she air her dirt laundry? she tried to destroy her Ex, she monetized her pain, she's cold and deserved everything she went through. Ive been criticized by people who later went on the same journey and found out that this life is full of twists and turns. but there's also been victories won.
"I have met so many women who found the courage to speak out because they read this book, I have heard of so many women who found their voice and found the brave in them to shame the culture of shame that we are faced with daily as women, I won't forget the email from a guy who was honest about how bad of a partner he had been and reading the book made him have a change of heart. I traveled the world, had an amazing tour and met so many people who I learnt from just by listening to them. Sometimes things happen not just for you but for the millions of lives that will learn from your struggle and your challenges and to those people I can tell you today I have no regrets, just blessings," she wrote
For the author, she has been able to build a brand for herself over the last few years and also declared that 2019 will be a better year for as she plans to tell another story bigger than her previous achievements.
"I have gone on to become so much more, built a remarkable Bankable brand (still on it by his grace) and I have learnt to laugh at my self so much that what anyone has to say doesn't affect me. In 2019 you'll read from me again. There's another story waiting to be told, another journey to discover. I just really wish anyone who is holding themselves back from reaching their full potential wakes up today. I pray for clarity, I wish for strength for anyone on their journey to become and a light of hope that never fades in the face of adversity. Here's to becoming more, thank you for coming on this journey with me. TM. X," she concluded
Toke Makinwa, since the launch of her book two years ago, has received both positive and negative reactions. The truth is, the media personality has been able to handle such situations very well
"Oh Shut up" Toke Makinwa blast follower who slammed her over Michelle Obama's book comments
Earlier in the year, Toke Makinwa shut down a follower on Instagram who tried to criticise her over her comments on Michelle Obama's book. Well, the gist is that Michele Obama, former first lady of the United States had announced on Twitter on Sunday, February 25, 2018, about the launch of her book "Becoming."
A seemingly excited Toke Makinwa whose book "On Becoming" has a similar title was overjoyed about the news and went to praise Michelle Obama on her Instagram page for her book and the story she has to tell not forgetting to mention that their books both have similar titles
"Way to go MO!!!!! I wrote a book called "On Becoming…", it's the first of many as I am still on a journey to become! She's written a book called "Becoming". Everyone has a story to tell no matter who you are or where you are from. We are all traveling thru life and It is important to share your story. You never know who needs your strength to get thru their demons.
"Everything that's happened to you, happened for you and the more you break the barriers of shame, accept the past and use it to shape who you become for the future; the more you rise. I cannot wait to read her own journey to becoming who she is now and I hope this further inspires anyone out there to live in their truth and shine thru each phase of their lives. #OnBecoming #Becoming #Powerofwords #tunnelvision #OnBecomingBold #Onbecomingmore," she wrote
Let's just say one of her followers on Instagram felt Toke Makinwa was making the news all about herself and sent her a not so friendly message
"Girl this is not about you… Let make that clear… Lol," she wrote. Ok, guys, Toke Makinwa wasn't going to let this slide as she attacked the follower with really sharp words.
"Oh shut up already! Her story is not mine but it's one of her journeys. What have you done with your life? Who's life have you made better with your own story?"  she replied
Toke Makinwa had on Sunday, November 27, 2016, launched her book "On Becoming." The event which held at The Wheatbaker Hotel, Ikoyi, Lagos, was attended by close friends, family, industry colleagues, and well-wishers