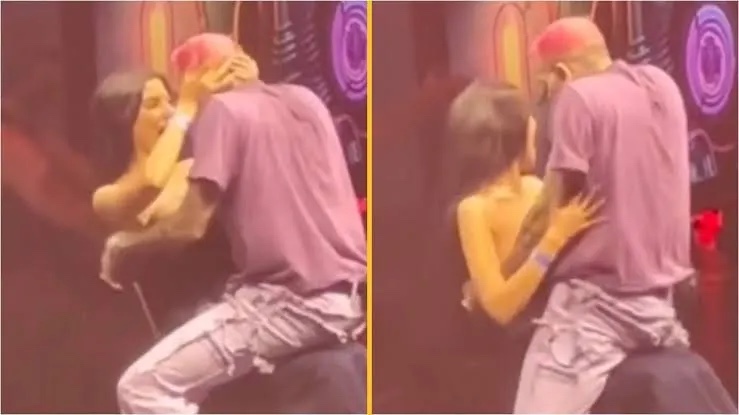 Chris Brown caused a couple to break up after he gave a woman a lap dance during his Under The Influence Tour.
In what is proving to be a signature move as he gigs across Europe, the singer, 33, performed the erotic dance while singing Take You Down.
But the concert-goer's boyfriend was left fuming as he watched the incident unfold on-stage, taking to TikTok to share the video.
In the clip, the brunette beauty looked delighted and ran her hands down Chris' body, while fanning herself with her hand.
Her partner Dash took offence to the act, writing alongside his post 'POV: Buying my girlfriend front row tickets to see Chris Brown.'
He added: 'I want my £500 and my girlfriend back.'
But when one follower commented, 'BREAK UP WITH HER RN SHE KNOWS BETTER,' he took to the social platform once again to give a relationship update.
Dash wrote: 'Just to update everyone regarding the Chris Brown concert, I'm no longer with my girlfriend but she said she doesn't think what she did was wrong.'
Chris recently sparked fury after he grabbed former Love Island star Natalia Zoppa by the throat in a lap dance during his Manchester live show.
The R&B songster, who has a history of domestic violence, wrapped his hands around the beauty's neck before grinding on her.
It comes just weeks after Chris berated his critics for repeatedly mentioning his brutal assault of his then-girlfriend Rihanna in 2009 which sent her to hospital.
Fans hit out at the star online, calling the latest footage 'disturbing' and 'hideous' and say Natalia, 23, looked visibly uncomfortable as Chris kept his hand around her neck for six seconds.