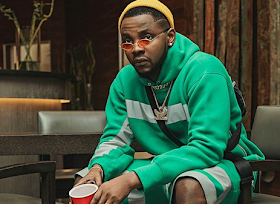 Kizz Daniel has denied supporting controversial COZA pastor, Biodun Fatoyinbo in the ongoing rape scandal.
News had gone round yesterday, saying the siger supported him and even called celebrities brainless. Why denying the act on his official instagram page, the singer wrote;
"God will punish you both now and in eternity @iamkyno — you and all the people behind you. I'm coming for you with all I've got Oga and I swear, you go feel am. My attention has been drawn to a publication by the Vanguard newspaper stating that I took sides with the embattled Pastor of COZA , Abidoudn Fatoyinbo.
I will like to categorically state that I never granted any interview with vanguard or any newspaper.
I am currently busy on tour in the US and haven't had the time to discuss the issue in my closet let alone call industry mates names. Please disregard this news article making rounds. It is false and fabricated, I have not spoken to any journalist regarding the said matter or any other matter including music in recent times. .
Any platform(s) that publishes this news or any unverified news about Kizz Daniel and FlyBoy INC. will face legal action
And as for you @iamkyno pls run away as far as you can, I beg you 🏽 @vanguardnews bastards!!!! @iamtimiblaq ti e ma baje patapata ni awsr''