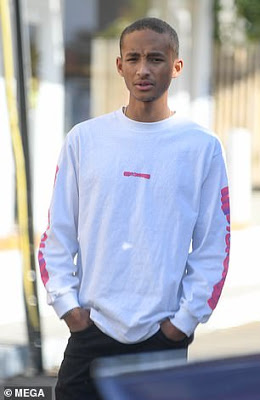 They grew up in the rarefied air of Calabasas's celebrity enclave. And on Sunday, Kendall Jenner and Jaden Smith met up for breakfast.
The pair, whose celebrity has come in large part from their famous family names, gave each other a warm hug before going their separate ways.
Kendall, 23, wore a white top and gray jeans, flashing a little midriff, and a pair of white ankle boots.
She added a lemon cardigan and wore her shoulder-length hair loose. Jaden, 20, who is still sporting a buzz cut, opted for a white sweatshirt with pink detailing and black pants.