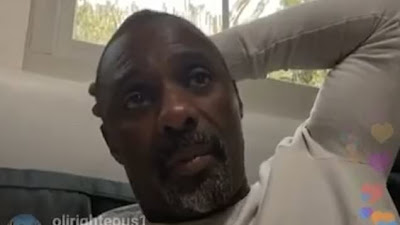 Idris Elba has hit out at accusations he was paid to announce that he'd contracted the potentially deadly coronavirus.
The 47-year-old actor, who was diagnosed two weeks ago, has been in isolation with his wife Sabrina, 29, who revealed she'd contracted the virus in recent days.
And as he faced questions as to how he was able to acquire a COVID-19 test when so many others showing symptoms were denied access to one, the Luther star took to Instagram Live on to set the record straight.
On testing, he said: 'It shouldn't be about whether the rich or poor gets it. Everyone should be able to get a test, for sure. I think the negativity around test-shaming is counterproductive. I don't see what people get out of that.'

Addressing the bizarre accusations levelled at him, the British screen hunk continued: 'And the idea that someone like myself is going to be paid to say I have coronavirus. That's absolute bulls***! Such stupidness.
'And people want to spread that like it's news. It's stupid. It's the quickest way to get people sick. It's no benefit to me and Sabrina saying that we got it and we ain't got it. I don't understand the logic of that.'
'Or to say that we're stuck inside,' model Sabrina passionately chimed in, as Idris added: 'There are a lot of people who conjure up these stories.'
The star's recently admitted that quarantining with his wife Sabrina has tested their relationship, after the married couple revealed they had both contracted the coronavirus.