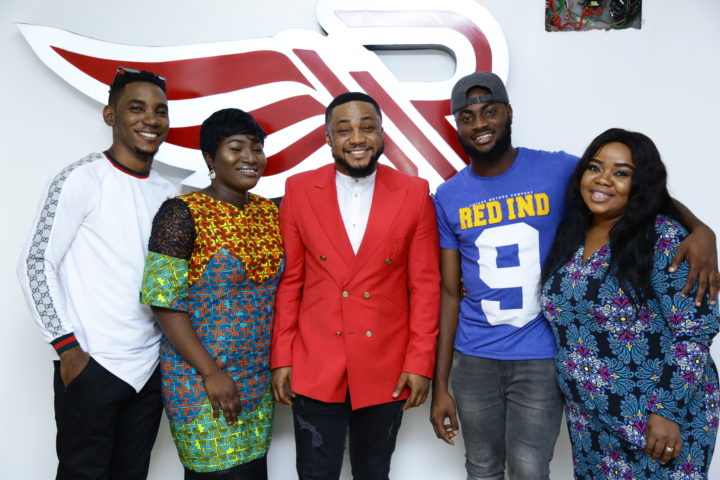 After over a decade's experience as a song producer, director, vocal coach and a songwriter with unpredictable live performances, Tim Godfrey today announced the launch of his record label ROX Nation. ROX is an acronym for Republic of Xtreme, and the label already has on its roster four talented artists; Okey Sokay, IBK, Blessyn, and SMJ who is also a producer.
"ROX Nation is not your typical music record label as we go beyond producing music and promoting artists; there is also an arm involved in movie production, stage shows, and general entertainment business" said Tim Godfrey at the unveil which held at the new ROX Nation Headquarters in Gbagada, Lagos; a facility that also hosts a live and audio recording studio fitted with video camera for live footage. ROX Nation also engages in content creation including jingles and TVCs for agencies, production engagement for recording artists and studio rental.
Tim Godfrey is also currently running a music reality show tagged Sound Check, a platform he says will help to train young people with raw musical talents and give them a platform to showcase their gifts to the world. "We are hoping to give younger people opportunity to find expression with their gifts" he said.
About Tim Godfrey
The multi-talented Tim Godfrey, Kaduna born Charismatic musician is the second born of four brothers and two sisters to the family of Mr and Mrs Victor Godfrey.
He started his music training right from his teenage years and was always found amongst the adult choir in his family church in Kaduna where he obtained his primary and secondary education, after which he relocated to Lagos in search of greener pastures.
After working as a music director for over a decade with vast experience in music directing, voice coaching, song arrangement, songwriting, and live performances, he started his professional music career on February 14th, 2004.
Tim is the producer of the annual gospel concert fearless that hosted Mavin Sapp in 2016 and Kirk Franklin in 2017. The event has recorded attendance exceeding 30,000 people in total. Fearless 2018 will be held in August 2018.
Tim Godfrey is an award-winning music maestro of international repute. The creative gospel artiste is known for his unusual style of blending contemporary music in to the African mix. His works include his 16-track album titled 'Sound Check', released in 2007, which featured the popular 'AGIDIGBA' track. Tim as a leader has proven himself relentless, unstoppable and with an unusual knack for excellence, he is a man with a heart for the people, passionate about fulfilling God's plan for his life and committed to raising the younger generation of talents in Africa and showcasing them to the world.