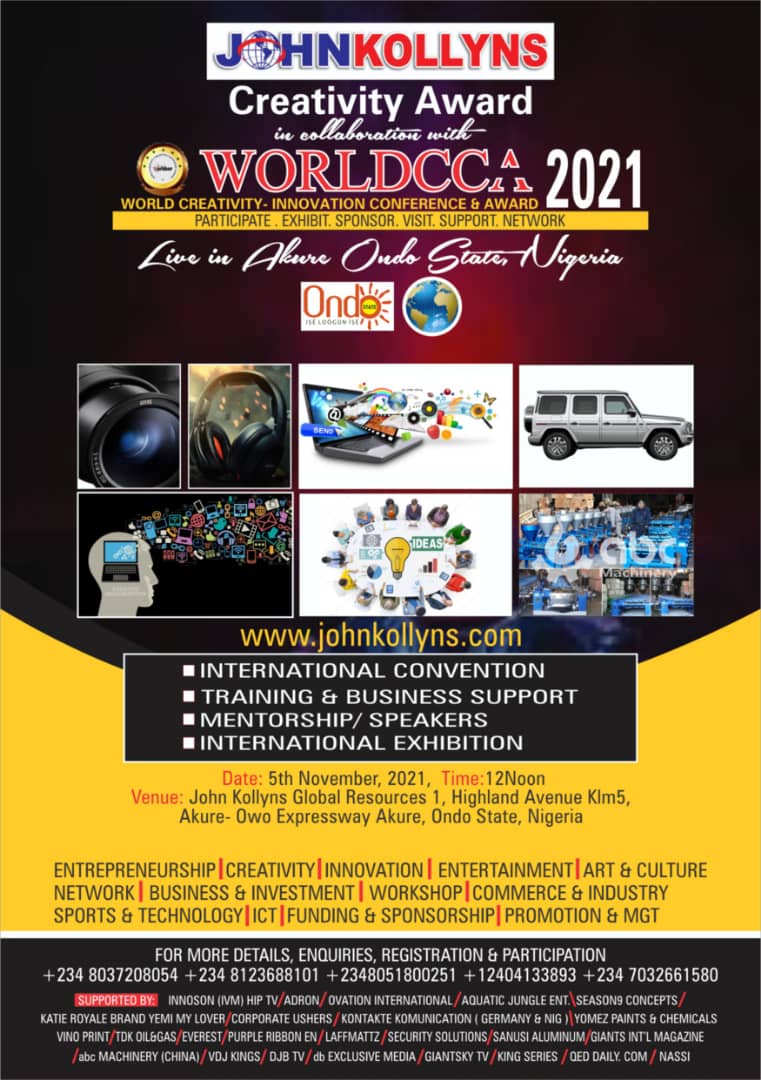 World creativity – Innovation Conference & Award (WORLDCCA) is an International Project and Events.
Creativity and Innovation industry is a multi trillion dollar industries worldwide.  Its for investors, international brands, Entrepreneurs, industries, celebrities, Artistes, entertainers, inventors, innovators, public and private sectors, manufacturers, creative industry and Digital economy generally to form profitable alliances Worldwide. 
This year WORLDCCA 2021 is in collaboration with JOHN KOLLYNS Creativity Award.  This is a very good and encouraging synergy to adding more values to the creativity and Innovation industry globally. 
Worldcca Founder – Mr. Kola Vincent King is the President and Founder of World Creativity – Innovation Conference and Award. He is a digital creative – innovation contents creator and developer. He is also a University graduate from the University of Ado-Ekiti, Ekiti State, Nigeria, where he studied Civil Engineering. An Experience Techpreneur Executive and Social Engineering Innovator.  He is also an inspirational speaker.  
Kola King loves traveling around the world meeting people and has travelled to some countries like Singapore, Malaysia, Ghana and some other African Countries just to mention but few.  He is also the CEO of World Giantsky, an international Networking and ICT services firm.  He facilitated the marketing and sales of ABC machinery a complete flour and feed mill manufacturing company from China to Nigeria, as part of creativity and innovation project services.  Founder of Social Media Network that is first of its kind in Nigeria, Africa.
With the aim of development and expansion of international Trade and Investment.  This year collaboration of WORLDCCA is with John Kollyns Creativity Award 2021.  Mr. John Kolawole is the MD/CEO of John Kollyns Global resources ltd, in Akure, Ondo State, Nigeria.  John Kollyns is a leafing Technical / Fabrication Technology Firm with State of Arts Innovation and Machines for production with high profile Brands as clients in Ondo State and Nigeria generally. 
WORLDCCA and John Kollyns Collaboration will be promoting creativity and innovation across the World and giving international award to some outstanding organisations, people, brands, celebrities, public and private sectors just to mention but few.  It is going to be a big event with support of NASSI (Nigerian Association of Small Scale Industrialists) Ondo State Chapter. 
Below are some other board members of WORLDCCA

Mrs. Elfrida Agbamuche Vice President 1 (WORLDCCA) in America 

Mr. Akin Owasayo Vice President 2 (WORLDCCA) in America 

Mr. Endurance Amoda, Founding Executive and Board Member (WORLDCCA) 
INNOSON (IVM) a leading creativities Innovation African Giant in the Automobile manufacturing Industry from Nigeria was also recognized with Award before now and will be getting another prestigious God Award this year 2021 from Worldcca/John Kollyns Creativity Award that will be presented by His Excellency Mr. Governor to encourage more of local contents for better and stronger social economic development in Nigeria and Africa generally. 
DJB TV – is a vibrant, creative innovative media and communications organization that is fast growing to the level that FORBES can Nominate / select the CEO of DJB, Mr. Idowu Babalola in the category of 30 under 30 in Africa. What An inspiring international recognition.
Very important personalities (VIP) like former Governor of Lagos State Mr. Akinwumi Ambode, Nollywood Super Star actor,  Funke Akindele, Ayo Animasahun (CEO of Hip TV ) got this prestigious World Class Award in previous edition.
This year people like Gbenga Adeyinka d 1st, Ramsey Noah, Foluke Daramola, Yemi My Lover, Idowu Babalola and Sunday Are of List Entertainment just to mention but few will receive honorary awards.
There are supporters and partners from the Media, Manufacturing Industry Sector, Financial Institution and Some International Brands. You too can contact us to be part of it.
Mr Kola Giant in a chat , sent a Special shoutout and recognition to the United Nations that already declared International Day for Creativity & Innovation and International Week for Creativity & Innovation week. 

He also stated that, The Governor of Ondo State Mr. Rotimi Akeredolu (SAN) is a strong supporter of Creativity & Innovation.  And His Excellency will be specially honored.