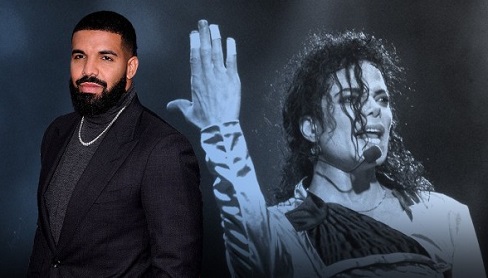 Drake surprised fans early on Sunday morning with the release of two new songs, When To Say When and Chicago Freestyle.
And he holds no punches, making reference to Michael Jackson and his Neverland home amid the child molestation allegations against the late musician.
The In My Feelings rapper joked that he had 'leaked' his own music in an Instagram post and directed fans to listen on his Octobers Very Own Soundcloud.
There they found When To Say When, which flips Jay Z's Song Cry and the genius sample of Bobby Glenn's Sounds Like a Love Song, as well as borrowing lyrics from Eminem's Superman on Chicago Freestyle.

On When To Say When Drake proudly acknowledges his musical accomplishments and how he retreated to his Canadian mansion to take a break over the past year. 'Ayy, thirty-three years, I gave that to the game, Thirty-three mill', I save that for the ring,' Drizzy raps.
'Five hundred weeks, I fill the charts with my pain, Five hundred mil and I fall back in the 6ix.'
He then adds: 'Finally give you the n****s the space you need to exist, Michael Jackson s**t, but the palace is not for kids.'
Drake is referring to Michael's famous former home Neverland, where children including actors Macaulay Culkin and Corey Feldman often visited. However, it is also where Michael is accused of molesting Wade Robson and James Safechuck during their childhood.
The two men, now adults, recounted their claims of abuse from the Thriller singer in the HBO documentary Leaving Neverland. Michael's family have denied all allegations against him.
The musician died in June 2009 at the age of 50 following an accidental overdose of propofol.
Drake fans have also interpreted the Michael Jackson lyric to be a response to criticism of his friendships with young actress Millie Bobby Brown and singer Billie Eilish.