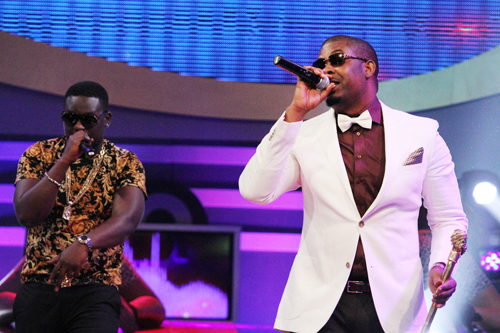 For fans of the golden Mo' Hits era something is coming for you all. Don Jazzy and Wande Coal are making plans to put the classic 'Mushin 2 Mo Hits' on Apple Music for fans.
A curious fan on Twitter requested that Wande place his Afropop classic debut album on Apple Music for digital access by fans who still which to ravish the body of work.
The Black Diamond boss replied the fan that he would have to check with Don Jazzy to make that a reality. In his respnse, Jazzy indicated he is cool with the plan.
Hopefully in due course fans of Mo' Hits should be able to acess the M2M album on digital stores.
See the Twitter exchange below.
Lol u no serious. Me no mind o https://t.co/EI3rmFNdFu

— ITS DONJAZZY AGAIN😉 (@DONJAZZY) March 26, 2019
This table you people have been shaking also has @DONJAZZY on it oo 😭🤷🏿‍♂️ https://t.co/AShK9j8EvY

— Wande Coal (@wandecoal) March 26, 2019
This table you people have been shaking also has @DONJAZZY on it oo 😭🤷🏿‍♂️ https://t.co/AShK9j8EvY

— Wande Coal (@wandecoal) March 26, 2019