Remember how the housemates were given baby dolls to take care of by Big Brother? Well he just made things more interesting by giving the housemates adult babies to take care of.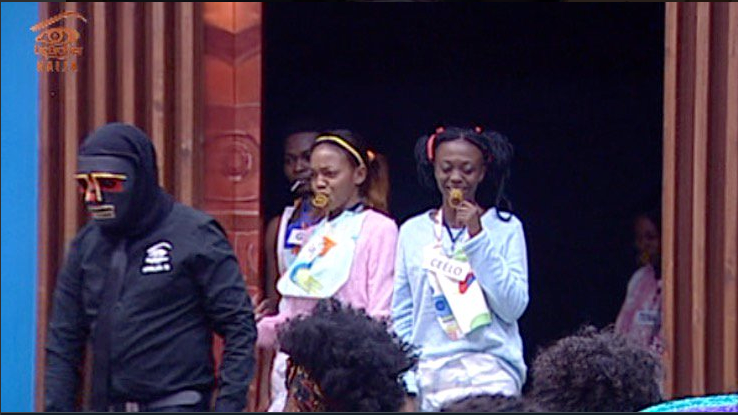 Biggie gathered the co-parents in the lounge to inform them that he was taking their babies for a clinic visit and would return them later.
As a Task, Biggie announced that it was time for the babies to go to the clinic to receive vitamins. No sooner said than done, four Ninjas entered the House to collect the babies and all their paraphernalia – cots, toys, balloons, bottles – clearing the lounge from a mountain of stuff.
A few minutes later, Big Brother called the housemates to get ready to welcome back their babies. Yet again, Big Brother proved that he never runs short of tricks. The babies who re-entered the house, had considerably grown into young adults, a phenomenon that Biggie attributed to the wonders that vitamins do to babies. Flabbergasted housemates could barely believe what was unfolding under their eyes, they looked visibly baffled at the sight of seven teenagers and young adults emerging from the elevator dressed in white onesies complete with babies' bibs and sucking on dummies. General hilarity ensued as the grown up babies all wore the names of their parents tied around the neck, and so helped housemates identify who was their baby.
It clearly is one thing to deal with baby dolls as loud as the cries were, and another thing altogether to look after a baby who is taller and bigger than you: Anto who was slouched in the sofa all this time, pulled a long face when her eyes met her son's eyes, a full head taller skinny young man. Leo on the other hand seemed to have a hard time soothing his peachy-skinned daughter, while Rico was seated on the carpet playing with his much taller and curvaceous daughter who seemed uninterested in his efforts, until he gave her a piggy-back ride. As for Teddy A he was the direct recipient of Ahneeka's suspicious looks when he lifted his attractive long-legged daughter up in the air to swing her around.
Watch their antics below.
The moment the adult babies walked in #BBNaija