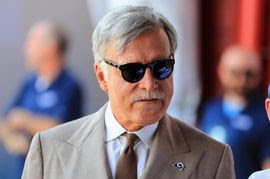 Stan Kroenke, Arsenal owner has seen his personal wealth rise in the opening months of 2020, despite the ongoing coronavirus pandemic which led to pay cuts at the Emirates Stadium.
A study published by TheInstitute for Policy Studies detailed that owner Stan Kroenke had seen his personal wealth increase by £323million since the start of 2020.
The Gunners owner, 72, is valued at £8.1bn by Forbes.
Via his Kroenke, Sports and Entertainment (KSE) vehicle, the American owns not just Arsenal, but also the Los Angeles Rams (NFL), Denver Nuggets (NBA), Colorado Avalanche (NHL) and Colorado Rapids (MLS).

Despite all of those teams currently being out of action – with uncertainty reigning over the vast majority of the world's sport – and the global financial issues brought about by the worldwide coronavirus pandemic, the IPS study – entitled the 2020 Billionaire Bonanza – detailed Kroenke's wealth has risen considerably since the start of the year.
Additionally, his wife, Walmart heiress Ann Walton Kroenke, has seen her own wealth rise by a further £97million.
Arsenal became the first club to agree cuts with their players in April, after intensive talks which initially saw the squad refuse to take a reduction in wages.
They subsequently agreed to take a 12.5 per cent drop for 12 months until March next year, with the club hoping to save £25million.
Players did so after head coach Mikel Arteta stepped into negotiations, helping to convince the squad that the club needed financial help.
If they reach next season's Champions League, then players will receive money back, with the percentage of the cuts being reduced.