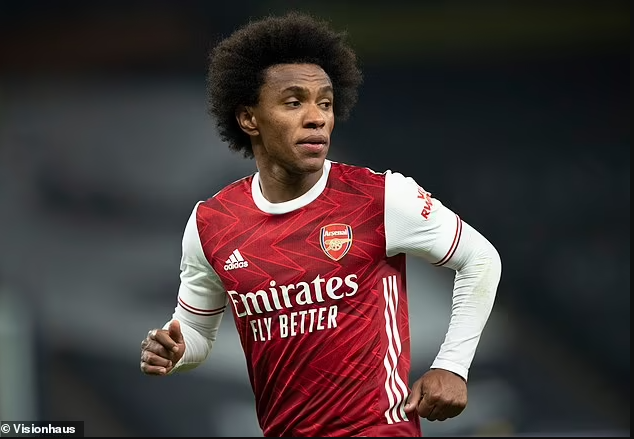 Arsenal midfielder Willian is set for a return to Brazil with Corinthians. The two clubs are in talks over a deal for the former Chelsea star, who would return to his homeland on a free transfer and it's understood discussion is at an advanced stage for the deal to be completed. Willian signed for Arsenal on free transfer last season, but his move has not gone according to plan as the Gunners struggled under Mikel Arteta last season. The Gunners are keen to remove his £190,000-per-week salary from the wage bill and would allow the South American to leave the Emirates. This comes two days after he angered Arsenal fans for 'liking' a social media post from his former club Chelsea rcelebrating their 2 – 0 win over his current club. The Blues had shared a celebration post showing the 2-0 scoreline along with a picture of Marcos Alonso, Cesar Azpilicueta, and Jorginho congratulating goalscorer Reece James.
The caption read: "Imagine not being Chelsea." Shortly after, eagle-eyed fans on social media spotted Willian had given the post a 'like'. One wrote: "Get rid of these Chelsea double agents from our club!!" Another said: "Willian liking this on Instagram? And he wonders why the Arsenal fans don't like him…" A third added: "Terminate his contract."
And a Chelsea fan joked: "I used to like William when he was at Chelsea but now I absolutely love him." Willian, 33, endured a shocking first season at Arsenal following a move from Chelsea in the summer of 2020, and reports have linked him with a move away from the club before the summer transfer window closes.