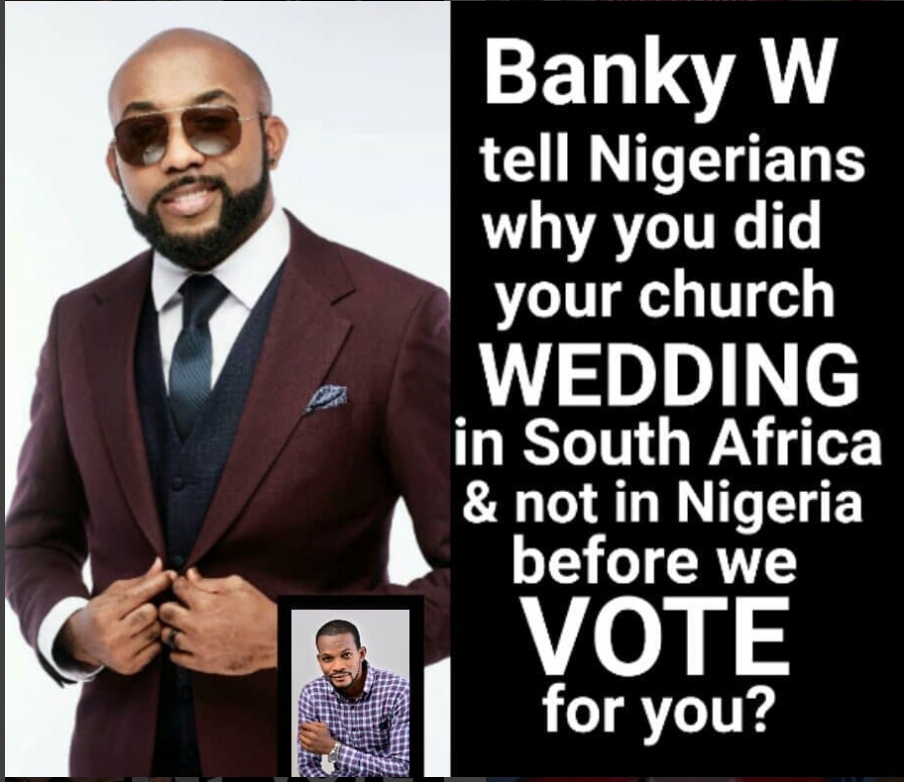 Controversial actor Uche Maduagwu has come for Banky W who recently joined politics and he is ready to contest for a seat in the house of representatives. The actor blasts him in a couple of posts on his Instagram page for taking his wedding to South Africa.
He wrote,
"@bankywellington Tell Nigerians why you did your #CHURCHwedding in #SouthAfrica and not in #Nigeria, before we VOTE for you..Firstly, is it #TRUE before you got married to #beautiful @adesuaetomi that you allegedly said you'll not do a BIG #wedding, but a small one? If that's correct, @bankywellington how big was your wedding ceremony? Our WORDS matter a lot…
"That aside, by taking your church wedding to South Africa do you know you just added to the GDP of that #country, i don't even want to use my calculator to do the #mathematics of how much you spent, that alone created additional JOB to the #YOUTH of another country, so why should we vote for you?
"I've already gotten the ATTENTION of @chrissyteigen in 2017 in #America, before some HATERS would say I'm looking for attention on #instagram, but we need to ask ourselves the RIGHT questions sometimes. @bankywellington if you couldn't do your church wedding in #Naija which could have added additional #JOB to the labor #market, why should we #VOTE for you?
"@bankywellington Tell us, how many #CELEBRITY in South Africa has ever come to do their church WEDDING in #Naija? Why should we VOTE for you?