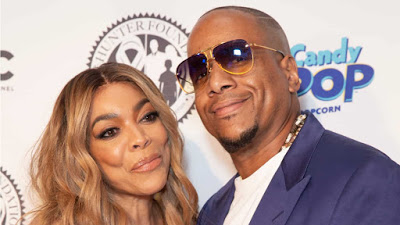 Wendy Williams is set to take her cheating husband back – but only as her business manager – after having a series of emotional heart-to-heart talks with her ex, DailyMail.com can reveal.
The 55-year-old TV host dumped Kevin Hunter, 47, in April after his long-term affair with massage therapist Sharina Hudson, 33, was exposed by DailyMail.com.
But it's understood Williams is now in talks with Hunter, having softened her position towards her husband, who she wed in 1997.
After a series of face-to-face meetings, the pair even drafted a joint press statement to announce they will not dissolve their production company, publishing house or charitable foundation in a bid not to damage the 'legacy' of the work they've put in.

Though their 22-year marriage ended in infidelity and acrimony, a source told DailyMail.com the two still make a 'solid team', having built a successful business, which they are now trying to preserve with a carefully negotiated divorce deal.
'Wendy and Kevin's marriage might be over but they still have love for one another and she realizes that when it comes to business they had a great partnership, there was definitely magic there,' a source close to the couple told DailyMail.com.