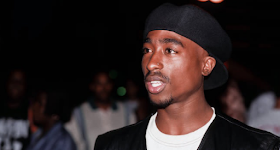 Owning a piece of hip-hop history is priceless. Although the artists we love and revere may be amazing within their fields, it is always amazing to watch them experiment elsewhere.
For example, Eminem's ability to draw is on a professional level, and Diddy was a delight to watch in A Raisin in the Sun.
Tupac also had another creative outlet, opting to use his drawing skills to vent his emotions when music wasn't an option. He had one piece of NSFW artwork that went up for auction recently.
Tupac's NSFW artwork was sold for a nice bag of money. The backstory for the picture is very interesting.
As revealed by Steiner Auctions, the work was done while 'Pac was locked up at Clinton Correctional Facility in 1995 in Dannamora, NY. Addressed to his girl Desiree Smith, the artwork features a handwritten letter.
The picture itself depicts 'Pac having s-x with Smith, and can be viewed here. If you can look past the pure erotic nature of the image, the artwork itself is very impressive. Now, TMZ is reporting that the NSFW picture was sold for $20 grand. The picture earned ten bids during the auction, finally selling for $21,155.75.The owner is a wealthy gentleman in his Golden Years.