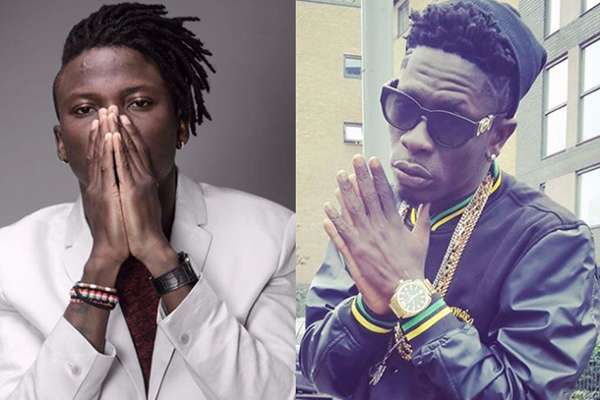 Ghanaian dancehall and reggae artiste,  Livingstone Etse Satekla, popularly known as Stonebwoy is,  in the calmest way possible, pleading with his fellow Ghanaian act, Shatta Wale to stop discrediting other artistes in the music industry, especially Ghanaian artistes.
This plea was made on Hitz 103FM during an interview with King Lagazee which was published on their Youtube on the 9th of September, 2018.
The reggae and dancehall star made this plea when Shatta Wale's name came up in the interview during their discussion on the amount Ghanaian artistes charge.
The interview had persistently asked Stonebwoy how much he charges for his performance, a conversation that was borne from an initial misconception that the presenter made known to Stonebwoy, stating that Ghanaians believe their artistes do shows for as little or no pay when they're out of the country, especially during their tours.
Stonebwoy, debunking this misconception stated that while he doesn't know about other artistes, he charges enough for his shows even though he couldn't attach a figure to it because according to him, there's no one price for every situation and you have to do a psychological costing, thereby charging for shows according to the client.
This led to the presenter informing him that Inshinaba Kojo had stated that any artiste that charges more than 50,000 has to give Shatta Wale a cut since he's the one that raised the bar. Responding to this statement, Stonebwoy asked;
Which bar? Beer bar or chop bar? For me, Sarkodie, Kwakesi, Samini or for himself? because as far as I'm concerned, the time people dey charge 50,000 for this industry wey we dey see, wey we been blessed to witness, e no be today. So which be that?
The interviewer went further to reveal to Stonebwoy that Shatta Wale claimed he(Stonebwoy) was given awards that belonged to him (Shatta Wale). To this, Stonebwoy responded;
I think we are condoning and pampering our brother, you know, to keep on discrediting other artistes which is not right. working so hard to achieve everything in this career it is not nice, it is not mature for another artiste to sit and be blabbering and be discrediting that this is mine and that is mine. and Ghanaian media also, you know say you people be the mouthpiece, so when you go into the media to say these things, it goes out there to the majority who are loose fans, because I get my die-hard fans and every other artiste have their die-hard fans but the loose fans are the majority and they're the ones who consume information the most. So when you keep knocking it, saying it is mine, this is this, this is that, and we know he is loud, it gets into their head and that is what the international world even sees because that's what the media writes, that what goes out there. and then when they don't hear the other sides of the story, it becomes the truth. so I go beg him to stop discrediting other artistes. if he's the same one that is preaching peace, saying let's come together… which artiste in Ghana has another artiste's name in their mouth pass am? …My case be make him stop dey discredit people because people dey work very hard for themselves and people are not [putting things out there; what they have, what they know and what they don't know but if that is your strategy, that is your brand, continue, I don't have any problem with it, but the discrediting for stop because what we no dey see be say e dey spoil many things, e dey mash up too many things … Everything that I have won or gained or achieved in this industry, is by the most mighty God in heaven who gives talent and gives life for us to work hard and they are mine, I deserve them and I won them.
The interview ended with an angry Stonebwoy who said Shatta Wale is instigating lies that he killed his mother and later coming back to call for peace and asking that they do music. To Stonebwoy, Shatta Wale doesn't know who he is and what he wants hence he has to have all that figured out instead of insulting every other artiste.
Watch it below;