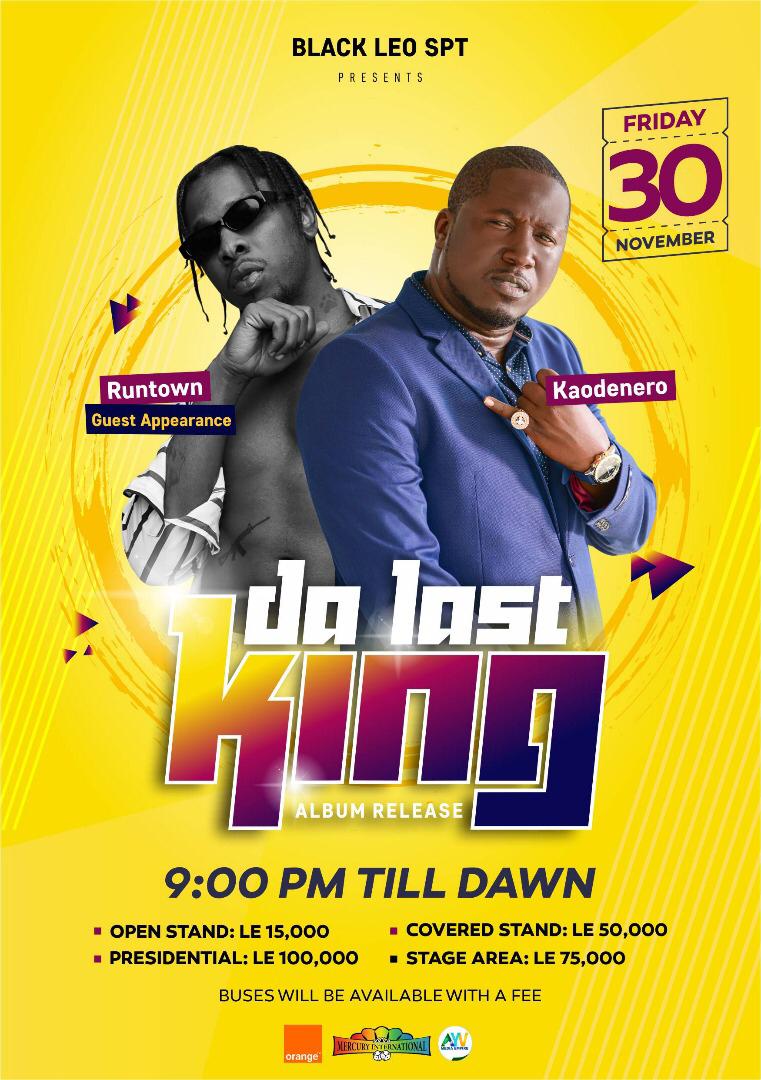 Sierra Leonean music star "KAO DENERO" who has been representing Africa in the global market for over two decades has finally concluded to launch his 10th album with a National Stadium Concert that will attract  over thirty six thousand live audience at the Sierra Leone National stadium, Freetown on the 30th of November 2018 with headlining from Nigerian music Star "RUNTOWN" , amongst other top stars.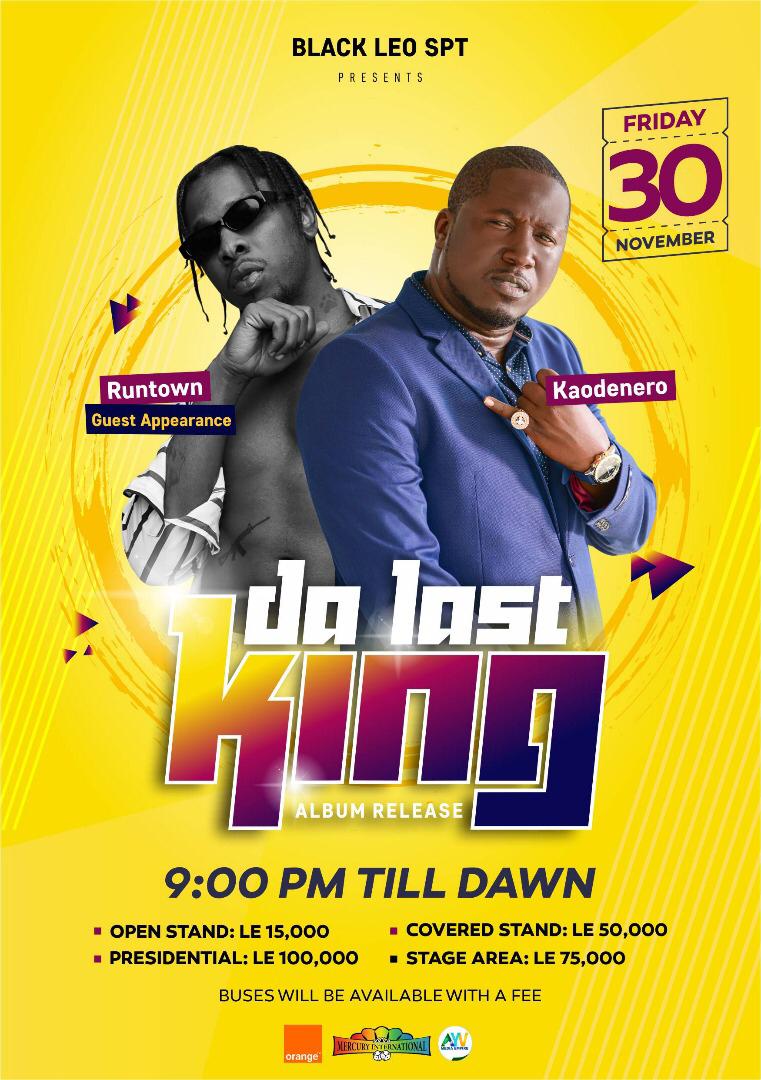 Sierra Pharma Tech (SPT)/Mercury International has taken a bold step amongst other multinational companies in Sierra
Leone to use their links and platforms to upgrade and promote made in Sierra Leone products and projects that will bring the
international personalities and merge them with top class national personalities in Sierra Leone to upgrade the entertainment projects and businesses in Sierra Leone at creating job opportunities for the youth.
The album speaks about peace keeping, importance of gender equality in the African community, child support benefits and
the newly discovered industry with robust development concept geared at providing huge job opportunities for the
youths of Sierra Leone and in turn brings about a huge financial support system for the Sierra Leone economy
continuously on yearly basis.
RUNTOWN will be live in Sierra Leone with his team to perform live at the show scheduled for 30th November at the
National stadium, Freetown.  He will also be available in person in Sierra Leone playing a key role in the musical video shoot.
The album project features one of Africa's best musical video directors from Nigeria, popularly known as
UNLIMITED LA, who has shot so many quality videos for different music stars home and in the diaspora.
The video shoot and event will be hosting top Sierra Leone entertainers, as the album will be released right at the event
for fans to go home with, the album lunch is designed to take Sierra Leone entertainment from grass to grace by exporting
positive quality contents from Sierra Leone to the world.
Unlimited LA shall be flying down to Sierra Leone with his team alongside [Angelic Touch costume] the best musical video
costumier in Africa and one of Nigeria's foremost star actor Samuel Nnabuike A.K.A [SAM SUNNY] playing the lead role in
the drama part of the video to explore the rich quality cultural heritage of the Sierra Leone people to the world, which will in
turn attract more tourist and investors to visit the country in this world class video shoot done on Sierra Leone soil.
The music video will be released soon on multinational television stations and the Internet, this feat if achieved will
make KAO DENERO and the (SPT TEAM) the first Sierra Leone team to bring a renowned musical video director across Africa
solely for the promotion of Sierra Leone quality content.