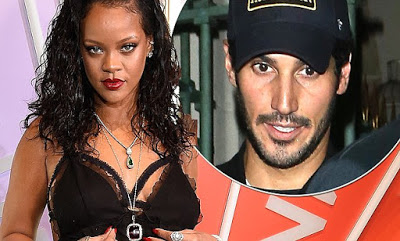 She is known not just for her hit songs, but also for her growing fashion and beauty empire and her starring roles in films alongside huge stars like Sandra Bullock, Cate Blanchett, Anne Hathaway and Cate Blanchett.
And Rihanna spoke to her Ocean 8 co-star Sarah Paulson during her Interview magazine cover story for summer 2019.
The 31-year-old posed in a gimp mask with red lipstick, tights and a Saint Laurent coat for one cover.
There was second cover which featured Rihanna covering her mouth and nose and rocking a netted hat.

During the interview, Rihanna tells Sarah to ask her if she has 'got any f**** up questions?,' adding 'Give me something. Ask me anything.'
Sarah then asked point blank: 'Who are you dating?' to which Rihanna quipped: 'Google it.'
The star is dating Hassan Jameel.
The actress then said: 'Are you in love?; Rihanna answered: 'Of course I am.'
The next question: 'Are you going to get married?' was answered with a pause from RiRi.
Sarah said: 'She's silent!' and Rihanna then added: 'Only God knows that, girl. We plan and God laughs, right?'
She followed it up with: 'Do you want to be a mother?' and Rihanna said: 'More than anything in life.'
She has been in a relationship with Saudi Arabian businessman Hassan Jameel since early 2017.