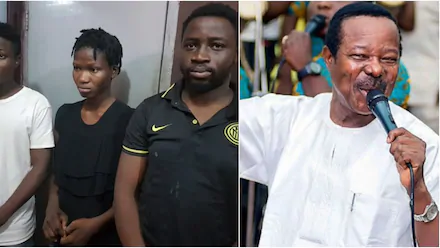 – A gang has been arrested in Lagos state for impersonating King Sunny Ade – The gang was reportedly led by popular Yoruba actor Yinka Quadri's personal assistant – Oluwafemi Lawrence Oyedokun was arrested alongside two other suspects in his syndicate Three members of a gang focused on impersonating prominent people to defraud unsuspecting victims have been arrested in Lagos state. The gang of impersonators were arrested for pretending to be juju music icon, King Sunny Ade. The three suspects were arrested by special intelligence officers at the Lagos state police command. King Sunny Ade can finally heave a sigh of relief now that the suspects have been caught. It was said that the musician kept on receiving calls from people who believed he was behind the Instagram and Twitter accounts opened in his name.
The members of the gang, 27-year-old Oluwafemi Lawrence Oyedokun, 23-year-old Rebecca Oyebode and 27-year-old Oyewunmi Abiodun Ridwan, had been using the accounts to announce fake United States of America and United Kingdom musical tour. Oyedokun, who is the leader of the gang, is said to be the personal assistant of popular Yoruba actor, Yinka Quadri, and Rebecca Oyebode is said to be Oyedokun's girlfriend. According to PM Express, the police discovered that the culprits had defrauded over one hundred people with the scam, and raked in millions of naira.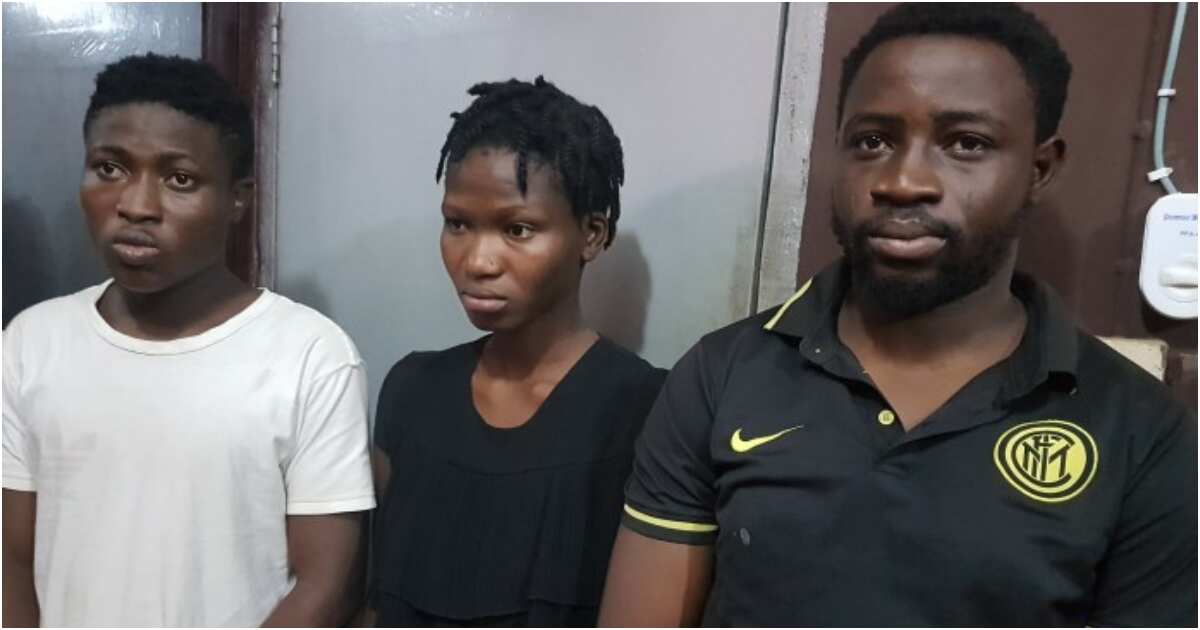 In an interview with NewsmakersNG, King Sunny Ade was said to have expressed that he had to call the police to help him after receiving so many calls about the scam. He said: "People were always calling my number that they heard I was organising a tour. When it was getting too much for me, I had to call the police who helped me. People were thinking I was the one doing it, and I've never done anything like that in my life. I'm a law-abiding citizen of this country. I came to the CP and he promised to investigate." Interrogations also led to the reveal of accounts opened by Oyedokun. The gang leader had opened several accounts in different names such as one in Diamond Bank account 0028331958, in the name of Ekundayo Yinka; a FCMB account 5043577019, in the name of Ayoola Zainab, and GTB account 0114461866, in the name of Nafeesat Adejumoke and UBA account 2087728165, in the name of Oyebode Rebecca Abiodun. It was gathered that many of the accounts were pened in the names of his friends' girlfriends, but registered with the boys' phone numbers. A total of N3,111,175 obtained from 61 victims has been traced by detectives. While the suspects were in custody, money from victims was served to have entered the accounts. Oyedokun revealed that he began the scheme in March 2018, and only involved others January this year.
The other gang members narrated how they became part of the scam to the police. Oyewunmi said: "He told me that his account was having problem and asked for a loan of N10, 000. He later told me in December that someone was about to send money to him for advertisement and he wanted to use my account because he had no other person that he could trust, so I accepted. He used to ask me that I should forward money to his girlfriend's account whenever he needed money." Rebecca said: "Sometimes in December last year, I came home from school at Adeyemi College of Education, Ondo, and we were together in Osogbo. We've been together since my NCE days at Osun State College of Education, Ilesha. "He told me he had issues with his account. I have Diamond and UBA accounts, so I gave him my UBA account and the ATM. Anytime I see an alert, I'll call him and he would say it's from a friend. I gave him my account in January." Police also found more than N1.4million in Rebecca's account.