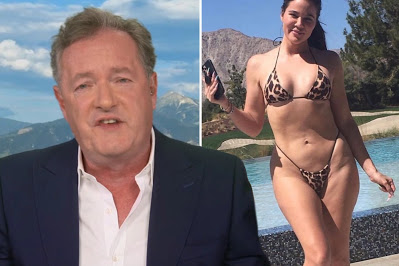 Piers Morgan has taken aim at the entire Kardashian clan, with Good American entrepreneur Khloe Kardashian first in the firing line.
The former Good Morning Britain star, 56, has accused the mum-of-one, 36, of blowing the family's "scam" after her unedited picture was leaked online.
Over the weekend, a picture of Khloe in a bikini was shared online without her authorisation, only for her team to request the image be removed.
Depicting Khloe in a leopard print bikini by the poolside, the reality star looked naturally radiant in the unedited snapshot.
In his latest column for MailOnline, Piers suggested the sharing of the candid image would have "horrified" Khloe, claiming her other images have been heavily edited.
"The photo of Khloé Kardashian in a leopard print bikini that's gone viral this week is truly jaw-dropping," he wrote.
"Because it's real. No filters, no airbrushing, little make-up, hair scraped back in a ponytail – just a picture of how Ms Kardashian actually looks."
Piers then went to compare the image to the other bikini photos shared on her social media, saying "her waistline is significantly less defined, her curves less dramatic and her skin not so impossibly smooth".
The broadcaster suggested the picture was "refreshingly normal" compared to her other bikini photos, which he claimed were "substantially worked on".
"With one carelessly released genuine photo, the scam's been blown," Piers added.
Khloe's team requested the picture be taken down after it was posted online, explaining it had been shared with the public "unlawfully".
Khloe's grandmother MJ Shannon had taken the picture during a private family gathering.