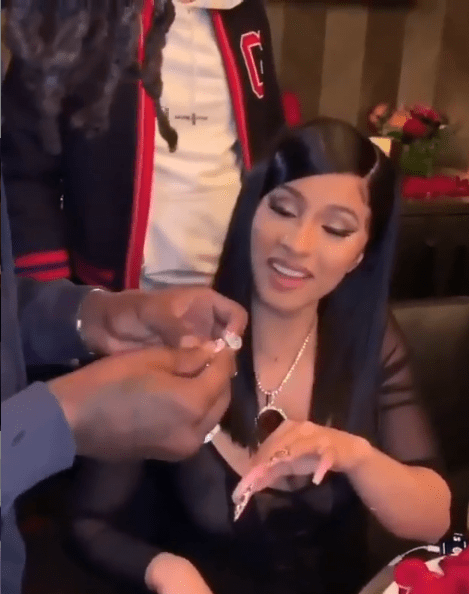 They are known for their very expensive taste and love for the finer things in life.
So it was little surprise that Cardi B was left close to happy tears as her husband Offset gifted her with not one but two enormous heart-shaped diamond rings for her 27th birthday on Friday.
In addition to her own gifts, the doting parents also showered 14-month-old daughter Kulture with a plethora of gold jewels, with the tot seen dancing along to her parents' track Clout in a sweet video.
a video posted to both their Instagram accounts of Saturday, Cardi can be seen sitting around a dinner table with Offset and her loved ones as they mark her 27th year.
A friend then brings out a silver cloche and brings it over to the rapper as she excitedly awaits her birthday surprise.
Nervous about what she was about to receive, Cardi joked that she was 'scared to open it', adding that her heart was 'beating fast'.
Her beau then leaned over it and lifted the lid to reveal two jewellery boxes sat on a bed of rose petals, with the boxes displaying the enormous glittering jewels.