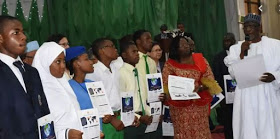 A 17-year-old Nigerian student, Nnemdi Ozoemena, has emerged the runner-up in the senior category of the 2019 Queen's Commonwealth Essay Competition.
Mr Blackson Bayewumi, Country Director of the Royal Commonwealth Society in Nigeria and Chairman Nigeria Conversation, said this in a statement in Abuja on Wednesday.
Bayewumi said that the Federal Ministry of Education had on March 11, inaugurated the competition in Abuja on behalf of the Royal Commonwealth Society (RCS) Nigeria during commemoration of the Commonwealth Day.
According to him, the Royal Commonwealth Society in Nigeria inaugurated the Essay Competition in Lagos on Feb. 20, 2019 and that the competition was held all over the 53 member countries of the Commonwealth.
"Ozoemena emerged runner-up courtesy of her literary piece chosen from more than 11,000 entries from across the five regions of the Commonwealth.
"She wrote about "Hello" a tale of two young people struggling with issues in their society and who do not feel truly appreciated for whom they are told through direct messages on Twitter.
"From different countries, backgrounds they find common ground and become friends; the One Final Panel Judge described the piece as 'shop window of how youth are speaking to each other today'.
"Ozoemena will be invited to attend an Awards Ceremony at Buckingham Palace where the Duchess of Cornwall will present them with their certificates on behalf of Her Majesty the Queen," he said.
Bayewumi said that Ozoemena came closely behind a 15-year-old Canadian, Beached Wang, in the senior category.
He added that Veronica Shen, 13, from Singapore emerged winner in the junior category while 12-year-old Ghanaian, Elise Jensen, emerged runner-up.