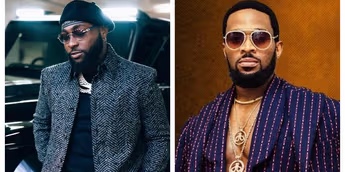 Davido talks about being inspired byD'banj's superstar status.
Davido is taking African music to the global stage through his A.W.A.Y festival through which he spotlights African culture and also provides Africans in the diaspora an opportunity to connect with their roots.
In a recent interview with Apple Music's Zane Lowe, Davido shared insights into making his Grammy-nominated album 'Timeless' and the inspiration behind his A.W.A.Y musical festival.
In the interview, when asked about his relationship with Akon, Davido shared that while Akon was a huge global star whose African heritage inspired other African artists, his first insight into a Nigerian superstar with a global appeal was D'banj.
D'banj is one of Africa's most famous Entertainers whose music popularized Afrobeats and contributed to the international appeal of Nigerian music. His hit single 'Oliver Twist' is one of Nigeria's first break singles internationally and it's described as an inspiration by Davido.
Even just back home, the people that really opened my eyes. It was like, Akon, of course, we knew he was African and he used to definitely come back home for shows. I'm talking about an artist that we saw in Nigeria, grow up with us and take over the world. My first vision of that was D'banj's 'Oliver Twist'."
In a career that has spanned over a decade, Davido has contributed massively to the global rise of Nigerian music. The megastar was recently nominated for 3 Grammy awards for Best Global Performance for 'Feel', Best Global Album for'Timeless', and Best African Performance for 'Unavailable' featuring Musa Keys.
Davido is gearing up for the maiden edition of his A.W.A.Y music festival which will take place on November 18, 2023.