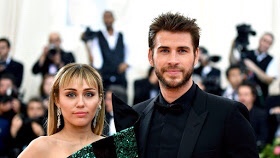 The marriage of Miley Cyrus and Liam Hemsworth is officially over. The divorce was finalised on Tuesday, five months after the couple split and Liam filed the documents.
Miley, 27 and Liam, 30, had enjoyed and on and off relationship for a decade before deciding to tie the knot in December 2018.
Their marriage was only to last a few months though and in August 2019, TMZ reported that Liam had filed for divorce, citing "irreconcilable differences."
Shortly afterwards, Miley embarked on a very public affair with Brody Jenner's ex-wife, Kaitlyn Carter.
They were pictured kissing on a yacht while holidaying in Italy and were inseparable for weeks, with Miley denying that she had cheated on Liam with the reality star.
The divorce settlement was reportedly worked out in December 2019, with it all now being made legal.
Since their split, Miley and Liam seem to be happily in new relationships, with the controversial singer hooking up with her longtime friend, Cody Simpson.
Liam has a budding romance with model Gabriella Brooks but with the divorce finalised, a source has told Hollywood Life that he "would always love Miley."