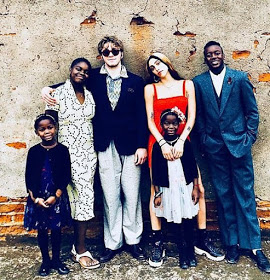 Madonna has revealed her children's lives would be 'less challenging' if they 'didn't have her as a mother.'
The pop icon, 60, said she believes Lourdes, 22, Rocco, 18, David, 13, Mercy, 13, and twins Estere and Stelle, six, sometimes 'wish [she] wasn't Madonna'.
The songstress' confession came as she admitted it 'took [her] breath away' when she realised how famous she had become in the early years of her career.
Speaking on the Graham Norton Show on Friday, she said: 'I think they wish I wasn't Madonna. I think it would be less challenging, in their minds, if they didn't have me as their mother.'
The Like a Prayer hitmaker went on to discuss her life as a 'soccer mom' in Lisbon, where she moved with her brood after her son David was snapped up by the Benfica Youth Academy.
She said: 'I surprised myself. Barcelona and Turin were an option, but I couldn't see myself living there. It would have been a lot easier if he'd liked music!
'I admit I only watch [the games] when he's playing. If he's on the bench, I'm on my phone!'