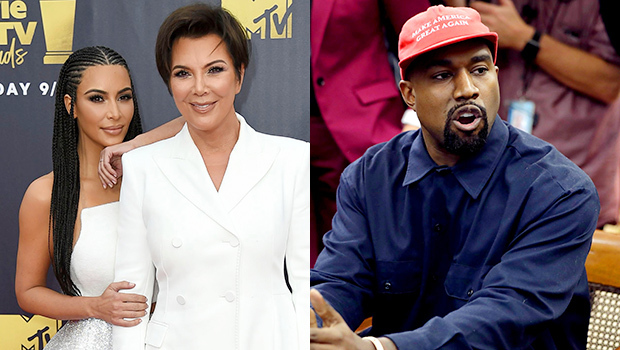 Oh, Kanye West. After his bizarre rant in the Oval Office,  Kris Jenner is making sure to support Kim Kardashian and handle this latest fiasco privately.
For 10-minutes, the world was exposed to the unfiltered, unadulterated mind of Kanye West, 41, as he went off during his Oval Office meeting with President Donald Trump, 72. The rant received wide condemnation from many of Ye's peers, with Don Lemon, 52, slamming it as a "minstrel show." With so many people turning on Ye, saying Kris Jenner, 62, is freaking out would be an understatement. "Kris is doing her best to put on a brave face publicly and pretend like [Kanye's oval office stunt] is no big deal but this is a crisis,"  . In addition to keeping her own cool, Kris is making sure that Kim Kardashian, 37, weathers this storm, too.
"Kris would normally fly into damage control mode at a time like this,", "but she's leaning towards just not saying anything, for once. Her primary focus is on supporting Kim so she's letting her take the lead on how to handle this. As public as they usually are as a family, there are certain times they prefer to handle things privately and this is one of them." Speaking of Kim, she is utterly devastated after witnessing her husband's performance in the White House. Kim realized that Ye was "being played by Trump, who was outright laughing at him at one point." Yet, as Kim knows firsthand, telling Kanye what to do or how to think is useless. She has to withstand the "hurri-Kanye" and pick up the pieces afterwards.
It will be interesting to see if the Kardashian-West family can recover after this latest fiasco. Ye's rant went off on all sorts of tangents, from his mental health ("So he said that I actually wasn't bipolar, I had sleep deprivation") to dissing Hillary Clinton ("the campaign 'I'm With Her' just didn't make me feel, as a guy that didn't get to see my dad all the time, like a guy that could play catch with his son") to his phone's unlock code, which is probably still a bunch of zeroes. Somewhere in all this insanity, Kanye even got up and gave Trump a hug.
"[For] as long as I've lived I've learned that it benefits a man nothing at all to gain the world, if to do so he must lose his soul," T.I. said in response to Kanye's meeting with Trump. "We just saw Mr.West's Soul on auction. If you listen closely you can hear the tears of our ancestors hit the floor." 50 Cent used some racially charged imagery to describe what Don Lemon summed up a "minstrel" show. "This was an embarrassment," the CNN commentator added. "Kanye's mother is rolling over in her grave."