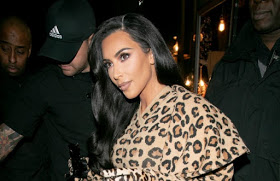 Before the Kardashian name became synonymous with reality television, it was associated with the late Robert Kardashian Sr., who was one of the most prominent lawyers in America. While the family has since become one of the biggest brands in the world, Kim Kardashian has opened up about her desires to return to the foundation laid by the family's patriarch.
On Wednesday, Vogue released its May cover story featuring Kim Kardashian in which she revealed that she's studying to become a lawyer with a four-year apprenticeship with a law firm in San Francisco, and plans on taking the bar exam by 2022. She also lays out her plans to further pursue criminal justice reform. Kardashian first made political headlines after her meeting with President Trump, which led to the release of Alice Marie Johnson from prison. Seeing this "really good result" made Kim want to take learning the intricacies of the law more seriously. "I never in a million years thought we would get to the point of getting laws passed. That was really a turning point for me, she said.
"The White House called me to advise to help change the system of clemency," she added. "I'm sitting in the Roosevelt Room with, like, a judge who had sentenced criminals and a lot of really powerful people and I just sat there, like, Oh, shit. I need to know more."
She went on to state that during her meeting with Trump, she was backed by several accomplished attorneys. However, she would like to be more informed so that she can have a greater impact.
"I had attorneys with me who could back that up with all the facts of the case. It's never one person who gets things done; it's always a collective of people, and I've always known my role," Kardashian said. "But I just felt like I wanted to be able to fight for people who have paid their dues to society. I just felt like the system could be so different, and I wanted to fight to fix it, and if I knew more, I could do more."
Kardashian also opened up about the outsize influence that her father had on her legal aspirations. "On the weekends they used our home as an office, with Johnnie Cochran and Bob Shapiro," she said. "My dad had a library, and when you pushed on this wall there was this whole hidden closet room, with all of his O.J. evidence books. On weekends I would always snoop and look through. I was really nosy about the forensics."