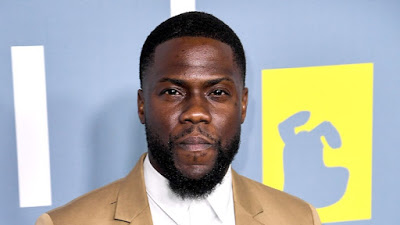 Kevin Hart has been sued by a woman who claimed a member of his security detail assaulted her.
Carmen Marrero sued the 39-year-old actor, his Hartbeat Productions and the unnamed security guard
Marrero was seeking unspecified damages after the unidentified security guard allegedly 'violently' struck her.
The incident in question allegedly took place on January 9 when Marrero was walking down a sidewalk in New York City, according to court documents.

Hart was exiting a building after a screening of his movie The Upside, when a group of fans gathered around him.
Marrero accused the security guard of assault and battery since he 'violently contacted her' when she walked by.
Marrero claimed that she has suffered 'serious injuries' from the altercation and was seeking unspecified damages from Hart.
The date the incident allegedly took place was around the same time when Hart was quite the controversial figure after he lost the Oscars hosting gig for failing to apologize for insensitive homophobic tweets from several years ago.
He also appeared on The Late Show that night, where he called the scandal an 'onion' with endless layers that kept peeling off.