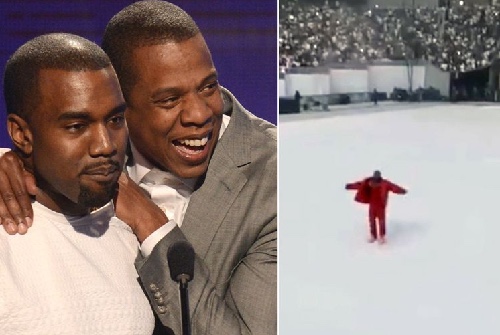 Kanye West Sends Fans Into A Frenzy As He Reunites With Jay-Z On New Album


Fans of Kanye West went into meltdown on social media when it was revealed that Jay-Z features on his latest album.


The Gold Digger singer, 44, hosted a launch party for his new album, titled Donda after his late mother, at the sold-out Mercedes Benz Stadium in Atlanta, Georgia.


Samples of his mother's speech feature on the album.


Kanye returned to the city he was born and stunned the crowd as he wore a red puffer jacket, matching trousers and orange shoes all of his own design. He also donned what appeared to be a brown rubber mask.


There was no formal introduction when he eventually took to the stage area as has album began playing.


And in a move which stunned everyone, Jay-Z made an appearance on the last song of the night as the pair appear to have buried the hatchet after years of tension.
Fans couldn't get enough of the revelation and flocked to Twitter to share their excitement, with many already calling for another Watch the Throne album 10 years after the pair collaborated for the first.


One fan said: "Hearing jayz on the track literally brought tears to my eyes… name a better duo #DONDA "


"You know it's real when you get chills and want to cry! #Donda #KanyeWest #JayZ," wrote another.


A third put: "Been waiting FOR ANOTHER JAY Z COLLAB FOR 10 YEARSS #DONDA"


And a fourth commented: "Y'all don't understand 10 years has passed since we heard jayz and Kanye on a track together ! #DONDA #dondalisteningparty this is a moment in music history right here"