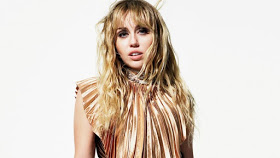 Miley Cyrus has revealed that she is still "very attracted to women", despite being married to Liam Hemsworth.
In a frank interview with the US edition of Elle magazine, the boundary-pushing star, 26, spoke openly about her "modern" marriage and how she isn't a "stereotypical wife".
The singer, who refers to herself as 'queer', revealed: "I think it's very confusing to people that I'm married. But my relationship is unique.
"And I don't know that I would ever publicly allow people in there because it's so complex, and modern, and new that I don't think we're in a place where people would get it…
She added: "I mean, do people really think that I'm at home in a f**king apron cooking dinner? I'm in a hetero relationship, but I still am very s*xually attracted to women…
"I made a partner decision. This is the person I feel has my back the most. I definitely don't fit into a stereotypical wife role. I don't even like that word."