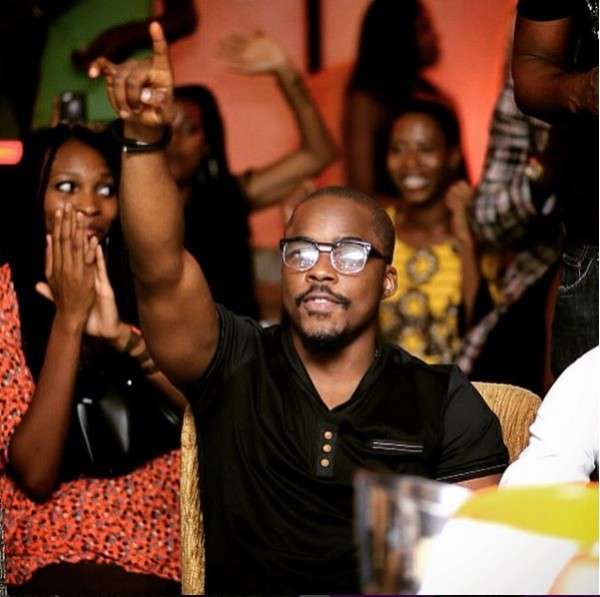 IKON has long been a prominent name on the music scene, since his work on Lynxx's mainstream hit, 'Change Your Parade' in 2011.
The producer recently released his long awaited debut body of work, "Hungry To Live", where he captures his career battles, journey and scars.
IKON for many years has allowed his works speak for him, staying away from interviews, but he recently broke his silence on the latest episode of the Pulse pop culture podcast, LooseTalk, which aired on Monday, December 3rd
Discussing with the giants, Osagie Alonge, Ayomide Tayo and Steve Dede, IKON spoke on a range of topics covering his new album, his role in Syndik8 Records and how he became a producer.
On the timing of the album release
Ikon's album, "Hungry To Live" follows the recent release of projects associated with him, Show Dem Camp's "Palmwine Music 2" and The Collectiv3's "Live.create.repeat" and he admits it was an intentional act.
"That was the idea, to release the project within the timeframe of The Collectiv3 and SDC.
When I started working on The Colletiv3's project, that's when I decided that it will be a good time to roll all these projects out."
He speaks further on The Collectiv3 and plans to spread the movement
"It already started with Palmwine music and the good thing about the Collectiv3 is that it's a loose collective. So we always get new and younger people involved, so with that said it makes it easier for us to spread the noise to the younger crowd."
What do you consider when adding new members to The Collectiv3?
"This time it was if you could deliver. There are verses on the album that were scrapped, not that it wasn't epic, but they didn't fit into the "Live.creat.repeat" idea.
There are people I have always had my eyes on like Preye and on the last track on the album, that's when I featured her.
Someone like Tomi Thomas. The song, 'Hold You Down', I made that song and wanted Funbi to record some R&B type song, Tomi Thomas comes to me and says 'I want to write something' and eight minutes later, he is done, that is the kind of work ethic Tomi has.
The reason I went into music wasn't that of the fame or money, I am all about the music.
People say IKON, I want to work with you and I say send me something you have done and If I feel like I can't 'save you', then I am not going to work with you because I try to be as epic as I can every time. Sometimes I miss, sometimes I am near, sometimes I hit," he added.
Do people come and say they want a particular Ikon sound?
Yes, that's why there was a time when I had the horns. There was a time I did a song with Omolara, that is when it started for me working with trumpets. Then I did 'Go Hard' [MI and Ikechukwu].
Tell us how 'Go Hard' was produced
"When I just started the Red Room studios [named by Lynxx], what I wanted to do was just make beats.
Killz came in while I was making the beat and he was like 'dope, he needs two more,' so he goes into the booth and just started rapping. Then it was like two or three days and somebody came with a cheque that they had already bought the beat and he set it up for M.I to come.
On that day M.I, Killz, Wande, Don Jazzy, it was a full studio and this song is one of the reasons why I will never forsake Hip-hop in Nigeria. The day the album dropped, that is the song that everybody went to."
Which one comes first, producing or rapping?
"Syndik8 Records, when we started in 2004, we were doing mix-tapes.
So I started producing first, but I needed to get into this rap thing. Syndik8 Records (Lynxx, Blink, Nedu, Black Magic) the mixtape, we did Volume 1, Volume 1.5 and 2."
On how they met and formed Syndik8?
"We all went to KC [King's College] together, I was a few years ahead of them, Nedu who was my cousin is friends with Lynxx and Blink. They all loved rap music and they heard that I was in the house making beats.
They used to come to the house and we play around music, so we decided, let's do this semi for-real, let's have a crew. One guy called Andrew was with us then and we were trying to find a name for the crew and he just was like, how about Syndicate? I told Lynxx and he was excited, that is how Syndik8 Records came to be."
How did you get into making music?
"So I lived in my Grandparents house in Ikoyi for a long time, my grandfather was a chief, it was a big house and my grandma had a computer school.
There was a section in the house that she used to store extra computers, so one day I was going through the computers and I stumbled on Fruity Loops and I just clicked on it and I am hearing the music, my world changed.
I have always loved music as a young guy, my father used to play music in the house. I was listening to Bone Thugs and when I realised I could make my own music, I was sold and not long after that I started working with a radio station (Rhythm) and they put me in the radio library."
On managing the success that came with 'Change your parade'
"The entertainment industry, there is so much that has happened and keep happening, stories that will probably never go out.
That time was a great time, girls used to chase the tour buses. We hosted some of the biggest artists now at that time. What I put into making "This is Lynxx" album, it has been a long time I did something like that."
When did you start taking music seriously?
"I used to make music for myself; make a beat, record it, but it was just for me.
I was just trying to perfect my production and also my mixing. I started with a project that I never planned to put out, I recorded like 89 complete songs, then we did "This is Lynxx", epic, Blackmagic, epic, on the verge of doing Nedu, he had to travel, so that kind of slowed down."
How did you now meet SDC?
"As soon as they came back to Nigeria, a friend of mine, who used to be a rapper, brought them to the studios and introduced us. They booked a session one night and said they wanted to record.
That night they recorded eight songs in two hours, so I was like I want to work with these guys forever. These guys reminded me of us, but they were even more solid, they had slangs for days and they put it in their bars.
Then Show Dem wasn't just Ghost and Tec, it was a gang of guys like 9 or 10. They were rapping what they were living and It was too real."
On working with BlackMagic
'Black Magic's first rap name is Ejay. The first song we really did was his ethos. He wanted to be original by all means. I was in Ghana and he called me and said he had this song called, 'Blackmagic Original' and with that in mind, the idea was to take a different spin on what Blackmagic meant, it meant African.
So when we started working, it wasn't a case of 'let's make an album'… it was while things were happening and he will just take a beat and record on it."
On ThreeWiseMen, who is the third person?
In 2012, Ikon alongside Blackmagic announced the creation of an alternative hip-hop group, Three Wise Men with the release of their single, 'Bastard' from their planned EP, "Bastard Ressurection", which was never released.
The identity of the third member remained a mystery for many years, but IKON eventually revealed who the person was during the podcast.
"In the beginning, the third wise man was Zela. When we made this song [Bastard], it was me, Blackmagic and Zela.
We made this song, we didn't have verses yet, we had the beat and the hook. Zela had a copy on his phone, goes to another studio, has a beef with somebody, the person takes his phone, takes the beat and records on it and puts it out.
But after that incident, everything kinda went down. So we replaced him."
On Syndik8 and Black Magic leaving
2013 came as a shock for fans of the Syndik8 crew as Blackmagic announced his exit from the label after a rumoured fallout with Lynxx.
"We are trying to structure Syndik8 then, trying to structure each artist and that time I was just a producer, but Blackmagic was like, 'I want to be a stakeholder' and I'm like its something we can consider but Lynxx was like, 'No, why can't we just move on with business as usual.'
We are trying to structure it but Blackmagic didn't want any of that, so he was like I'll start my own label and maybe affiliate with Syndik8.
Blackmagic is a boss, he is not a follower. So he just didn't want it and at the end of the day, we agreed that he could leave."
How did you come about the chant in the song, 'Solomon'?
https://www.instagram.com/p/Bq789D0Dqwu/?utm_source=ig_embed
"It's Idoma. The guy is reading a bible passage, he is talking about David admonishing his son Solomon.
My uncle passed three years ago and we went to bury my uncle right beside his father. When they started singing this, people started crying more, I didn't know what they were saying but I felt it.
When I heard it, I knew I needed this feeling on wax. I recorded it live while he was singing, I took it to Lagos, I knew I was going to do something with this, I was trying to make the beat in my head.
And one day I slept and I had a dream, it might sound weird but I heard the sample, I heard how I would use the beat. In the dream, I was a bird and I turned into a wolf. In my subconscious, that's how I felt.
As I woke it, it started to leave my head and I was recording it on my phone running to the studio."
The reaction when he dropped Solomon?
"A lot of people said, that song is so sad and I was happy cause that is the reaction I wanted."
On his new album, Hungry To Live?
NOV 30TH #HUNGRYTOLIVE pic.twitter.com/i1hJf8Mfbl

— IKON EKWUYASI (@IKONEKWUYASI) November 27, 2018
"There were probably like 12 songs but the message could probably have been lost if those songs were there.
Lynxx was on the album and a bunch of people but I took those songs out cos I didn't want it to seem like there were songs that were trying to be commercial.
This album is not for everybody, it is for me. I decided to put it out in case somebody might hear it and be like me too I'm trying to figure out myself and know my truth. I know there are people going through it, there is hope. So having other songs on it will derail the message."
Who are your favourite producers?
"My top ever is Dilla, I like Quincy Jones. I like Prince, I like Pharell, and the usuals suspect like Dre.
A close second to Dilla when it comes to hip-hop is Just Blaze and another close second is Alchemist and 9th brother in his Lil Bro days."
What's next for IKON?
I'm planning a few events and intimate experiences rather than performances. The way I have put this project together is the way I want it to be live. The next thing I'm doing is the Three Wise Men album because it is done and my next project "No Babes in the Beer Parlour" next year.
Also more Collectiv3, more Funbi, those are the things for next year and years to come. This album now is kind of closing a chapter in my life as a guy, as a producer."
This interview has been slighty edited for clarity