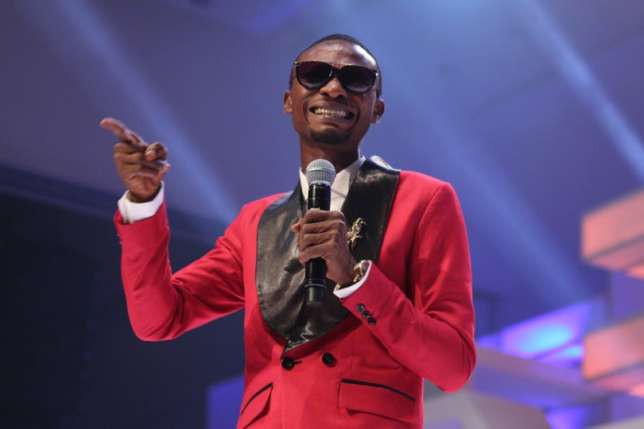 I Go Dye for the umpteenth time has slammed president Muhammadu Buhari over his anti-corruption fight.
The comedian took to his Instagram on Friday, November 16, 2018, where he questioned the president's anti-corruption drive. In his post, he raised an alarm over the millions of unemployed graduates. It didn't end there, he also questioned what the loots recovered from the Abacha regime has been used for.
"THERE IS HUNGER IN NIGERIA DON'T LET ANYONE DECEIVE YOU. Your Excellency, President Muhammadu Buhari. As madact Ambassador on make A Difference Against Corruption Today, it has expanded my passion to speak. It saddens my heart that after 58 years all sectors of our social and economic lives has been plunged in failure. Over the years, millions of graduates continue to wade through trying times, while youths with creative artistry, artisans and our young women have been denied the true values of nationhood, self-esteem has been destroyed, many weep and sleep on a daily basis without a meal
"Sir, The funds recovered from looters in the past fews years of your government is 739 billion Naira, Abacha recovered returned loot is 322,000,000 dollars equivalent of 112billion naira Totalling 851 billion naira. why was the Abacha returned loots shared? Who are the beneficiaries? Why wasn't the returned and recovered loots used to finance some of the basic social problems like electricity, repairing our refineries and creating jobs for our youths, build a world-class hospital that can reduce the traveling expenses of Nigerians travelling abroad for medical treatment?
"Sir, if our hospitals were well equipped, you won't be involved in foreign trips for medical check-ups. When you eventual leave office, which hospital would be standard enough to offer you this services and to other Nigerians? Who are the looters that returned the said amount? How come they are not facing criminal charges or being jailed? How come politicians alleged with 232 billion naira cases of corruption are working for your re-election? Is it Only those that are with you, that are the presumed saints?
"Your Excellency, our budgets for the last 3 years of your government 2016 (6.07 trillion),2017 (7.298trillion, )2018 ( 9.12 trillion) Total 22.488 trillion naira, yet we do not have access to ordinary clean water, with escalated hunger in the land. In 2015, Nigerian was ranked 3rd among the poorest nations index but today in 2018, Nigeria is now ranked number number 1 people living in poverty in world overtaking India.That is why Nigerians are complaining," he wrote.
Since the beginning of President Muhammadu Buhari administration, I Go Dye has remained a critic of the government. Recall that back in January, the comedian advised the president not to contest in the 2019 elections.
I Go Dye thinks Buhari is too old to run for 2019
I Go Dye says President Muhammadu Buhari is too old to run for 2019 so he should allow the youths to take over the affairs of the country. The veteran comedian made this know on Wednesday, January 25, 2018, via his Instagram page where he wrote quite a long epistle on why Buhari shouldn't run for elections in 2019. According to I Go Dye, Buhari has been in government since his youth and have enjoyed a lot of privileges from the country.
"A clarion call to all tradition leaders, Ex-presidents, diplomatic communities elder statesmen, professional bodies, entertainers and Nigerian youths to lay their voices to end political recycling, because a future bequeathed to Nigerian youths today, will be the best legacy. Sir, with profound respect to your personality, do I write this letter, Sir, with profound respect to your personality do I write you this letter
"Please allow me the privilege to politely take you through some of the best moments of your life as a youth. I have questioned my fears when I looked back at our history, as a people and the many opportunities that has been denied the youths of my generation. The youths of today are grieving every day because so much has been taken away from them.
"They have been denied the right to good life, quality education, freedom, justice, sustainable means of livelihood and above all, the freedom to leadership. These opportunities were given in the past, remarkably many great Nigerians including your humble self, enjoyed the very best from our great country. How come my generation has been shortchanged and left in dissolution and uncertainty?
"We all have our different birth dates, yours was in 1942. You joined the Nigerian Army at the age of 19 in 1961. Just three years in military service, the Nigerian government sent you and a few others to commonwealth military academy training at Aldershot in England, between 1962- 1963. A testimony of how government cared and protected the youths at that time. At 22 years you were already the platoon commander of the second infantry Battalion. Thereafter, at the age of 25years, you were the among the few soldiers that were involved in the counter-coup of 1966, which included your colleagues in service, Abacha 23 years, IBB 25 years and the oldest was Danjuma 28 years and a host of others. At youthful age, in 1975, at 33 years, you were already the Governor of North Eastern States.While in 1976 at 34 years, you were appointed as the minister of petroleum. Meanwhile, two years later, in 1979, I was born into this world," he wrote.