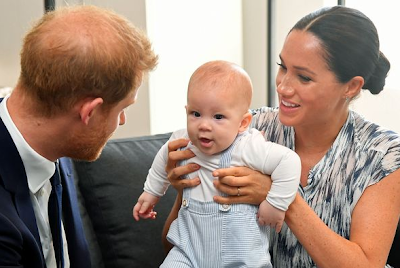 Prince Harry and Meghan Markle reportedly 'spoiled' baby Archie during their first Christmas together as a family.
Archie Harrison Mountbatten-Windsor, to use his full name, will grow up as one of the must privileged children in the world in the British Royal Family.
He's also the first born of superstar royal couple, the Duke and Duchess of Windsor, who clearly dote on him, so it's perhaps not surprising that a report of their first Christmas together claims he was showered with gifts.
They added that "it's not all about extravagant gifts for them".

This would chime with a description of the royal couple by American comic and chat-show host, Ellen Degeneres, who said they were "the most down-to-earth, compassionate people".
Indeed, Harry and Meghan were so keen to give their son a normal life, they chose at birth to not give him the courtesy title Earl Dumbarton or style him Lord Archie Mountbatten-Windsor, instead taking it upon themselves to decide he should just be a plain 'Master'.
Building blocks are a classic present for newborns as they learn to navigate the physical world and develop their coordination skills.