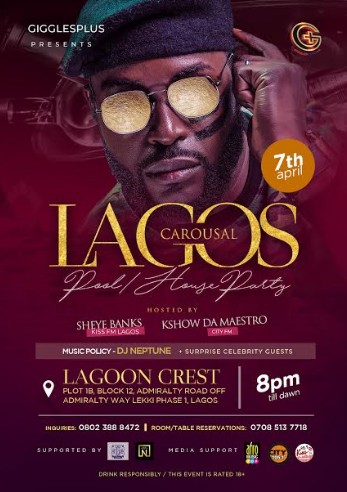 GIGGLESPLUS presents LAGOS CAROUSAL PARTY series – A monthly themed party to connect, integrate and mingle with celebrities and socialites.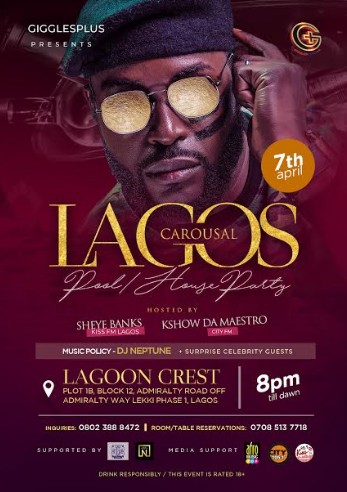 The noun CAROUSAL [kuh-rou-zoh]  describes a rowdy gathering that involves a lot of drinking. The word stumbled into English by way of the French word carousser, meaning, "drink, quaff, swill".
The event is promised to be the longest running event entirely devoted to the pursuit of a more creative, fulfilling and entertaining lifestyle.
GIGGLESPLUS is interested in providing the best of entertainment, featuring a great mix of showbiz content, business executives, surprise celebrity guests, prominent DJs and other exclusive side attractions at every event.
With BESTAB LOUNGE and NAKI MUSIC as partners and prominent international music and lifestyle tv channel, AfroMusic Pop Channel 326 dstv / 76 GOTV throwing weights behind it, you should expect nothing but the best of entertainment.
The venue for the event is LAGOON CREST: Plot 1b, Block 12, Admiralty Road off Admiralty way Lekki Phase 1, Lagos and door opens at 8pm.
Celebrity DJ for the event is the amazing and sensational DJ Neptune with other surprise celebrity guests.
The event will be hosted by:
Sheye Banks (Kiss fm Lagos) & Kshow da Maestro (City Fm)
RSVP / info: 0802 388 8472
Table Reservations:
0708 513 7718
We advise you drink responsibly.
This event is rated 18+