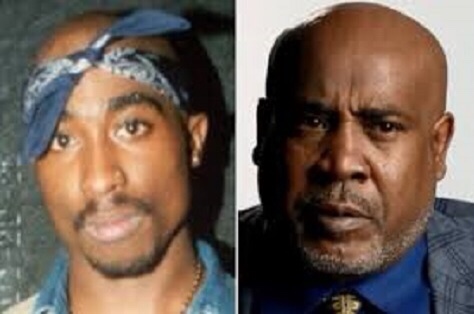 A compton gangster has boasted about his key role in the murder of Tupac Shakur in a tell-all book – bragging that the night of the shooting was just "another day at the office".
Self confessed criminal Keffe D Davis delivered a detailed breakdown of how he and his nephew Orlando "Baby Lane" Anderson shot Tupac dead then fled the scene – in a memoir of his life called Compton Street Legend.
Pals of Keffe told The Sun he is hoping to have his life story turned into a film – similar to the NWA biopic Straight Outta Compton.
But the gangster insists that while he has some remorse for the murder of the cultural music icon, Tupac was "no angel"
"I don't understand why people act like Tupac was an angel. S*** the n**** busted on some off duty cops in Atlanta a few years earlier," he writes in the book.
He added: "The moral of the story, real gangsters, are nothing to f*** with…it's a ruthless way of life…for us Vegas was another day at the office.
He added that although it sound "cold hearted" the killings of Tupac Shakur and Biggie Smalls are as considered just "collateral damage" from a street perspective.
In the book, Keffe wrote about how he helped secure a gun to murder Tupac as revenge for Pac beating up Orlando after a Mike Tyson fight at the MGM Grand in September 1996, then helped co-ordinate a team of fellow LA gangsters to kill him and fellow rap icon and owner of Death Row Records Suge Knight.
While Orlando, who died in 1998, was arrested by Los Angeles police three weeks after Tupac's death, Keffe has never been charged for any role in the murder.
Keffe's full admission appears in the chapter entitled "The Main Event" in Compton Street Legend.
He describes how on the night Tupac was murdered, a fight took place at the MGM hotel – after which Orlando accused Tupac of beating him up and leaving him with a damaged shoulder.
Pac's friends already had issues with Orlando and Keffe over a previous fight in Lakewood, California so tensions had escalated.
Keffe wrote: "We couldn't let no record company gangsters do us like that.
"Had they lost their f***** rapping' a** minds?'
The gangster also made other accusations about Tupac – over alleged bribes and pay-offs not being repaid.
Keffe chillingly wrote that the fight with Orlando meant "Strike three homey, you're out!!"
He says that he was given a Glock pistol by a New York based pal called Zip – before they began their hunt at Knight's Club 662.