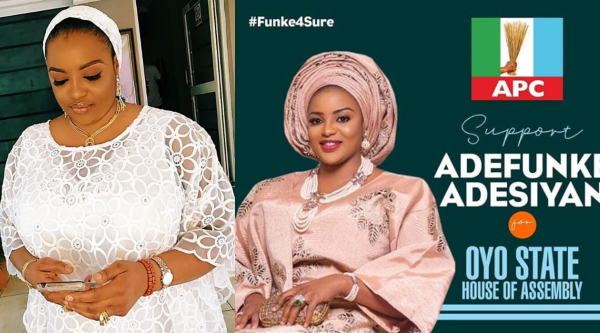 Nollywood actress turned politician, Funke Adesiyan has stated that she is not backing out of politics despite her stolen mandate, which seemingly set her back in her ambition to serve her constituency in Oyo State.
Barely 24 hours after celebrating her victory at the primary election of the party, where she claimed to have emerged the standard bearer ahead of the 2019 elections, Adesiyan said she was shocked to find out that her name had been replaced.
In a statement signed by her and shared on social media platforms, livid Adesiyan said she could not bring herself to believe that her victory could be upturned without any explanation.
The statement read in part:
"While I am not quite happy that my hard-earned mandate was taken away from me, as this rudely stands against the principle with which I stand for, I can't go against the wish of our party, (APC).
"I can't understand why people, who bought forms sold at exorbitant prices, went for primaries and emerged winners only to be told that their names had been swapped for anointed candidates. One may be tempted to ask why we had primaries in the first place."
Asked if she would dump the party to actualise her dream, Funke Adesiyan said she would make her decision known to the public in the coming days, adding that she was not the type that would bow under pressure, Tribune reports.
"This is obvioulsy not the last you would hear about me. I am a proper indigene of Ibadan as against what some people have been saying. I am from Kudeti in Ibadan and my forefathers were the ones who sold land to people in that area. I am working on my next plans. Something big is coming," she said